Hello and a very warm welcome back to the September instalment of Vlog Stars, the linky I co-host with the fabulous Aby from You Baby Me Mummy. Thanks to you all that linked up last time, we loved watching all your vids.
I'm sorry to have missed last month, I had the builders in and they went through the wi-fi cable (again) <wails> and so I was unable to upload any videos.
This month we asked you to join in 'the blogger tag' I really enjoyed filming this one and hope you did too. Watch out for a cameo from Rose at the end…
The questions for this tag can be found underneath my vlog in the description box :)
Next month's tag that will go live on the second Thursday of October will be: Dream dinner party tag
Aby and I would love to know which 7 guests you would invite to a dinner party. They can be alive or dead, famous or not. You decide! 
We are delighted to see regular vloggers joining in with this project of ours and it was nice to see a couple of new faces last time. Thanks ever so much for creating a lovely little vlogging community we really appreciate it.
Really look forward to hearing your fav songs, so get linking Vlog Stars!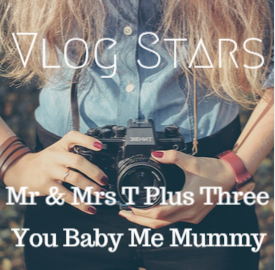 <div align="center"><a href="https://www.amytreasure.com" title="Mr and Mrs T Plus Three"><img 
src="https://i1249.photobucket.com/albums/hh520/GlimmerandGloss/Vlog%20Stars%20Badge_zpsursffhqe.png" alt="Mr and Mrs T Plus Three" style="border:none;" /></a></div>