Hello and a very warm welcome back to the first Vlog Stars of 2016 the linky I co-host with the fabulous Aby from You Baby Me Mummy. We were so crazy busy with pressing work and family commitments in December that we skipped a month, apologies for that but we are back and raring to go and looking forward to watching your vlogs this month.
The theme is 10 confessions, they don't have to be parenting ones. Any old life confessions will do, we are a nosy pair and want to hear your secrets! This one was actually quite hard for me-I must lead a very boring life as couldn't really think of many at all. Here is my vlog in which I may have cheated a little bit…
You can catch up with Aby by checking out her confessions post and watching her vlog here.
As it's a new year we would love to hear your goals for 2016 so next month's theme will be:
Your goals for 2016 (linky goes live every second Thursday of the month)
Tell us 3 life goals and 3 work goals that you would like to achieve in 2016. This should be much easier, I can think of loads already.
Perhaps one of your resolutions is to vlog more? Well, this is the perfect excuse to get that camera rolling!
We are delighted to see regular vloggers joining in with this project of ours and it was nice to see a couple of new faces last time. Thanks ever so much for creating a lovely little vlogging community we really appreciate it.
Really look forward to hearing your confessions (or lack of!) this month, so get linking Vlog Stars!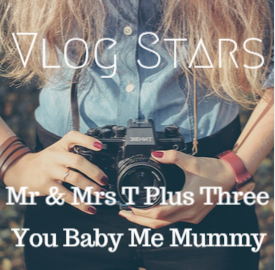 <div align="center"><a href="https://www.amytreasure.com" title="Mr and Mrs T Plus Three"><img 
src="https://i1249.photobucket.com/albums/hh520/GlimmerandGloss/Vlog%20Stars%20Badge_zpsursffhqe.png" alt="Mr and Mrs T Plus Three" style="border:none;" /></a></div>