Hello and a very warm welcome back to the October instalment of Vlog Stars, the linky I co-host with the fabulous Aby from You Baby Me Mummy. Thanks to you all that linked up last time, we loved watching all your vids.
This month we asked you to answer the 16 random questions tag questions here and you can see Aby's post here. Aby and I loved filming last month's Vlog Stars so much, we've done this tag together too (and next month's!!) We hope you'll all join in with this one.
Next month's tag that will go live on the second Thursday of December will be: The Christmas tag!
1. Use one noise to describe how excited you are for Christmas.
2. What is the best present you've ever received?
3. What is the worst present you've ever received?
4. As a kid, did a sibling ever receive a present that you wished was for you?
5. Sing a line from your favourite Christmas song.
6. Name a reindeer.
7. What is your favourite thing about Christmas?
8. When do you start getting excited for Christmas?
9. Do you use advent calendars?
10. Recite one line from your favourite Christmas/Holiday movie.
11. Share a funny christmas memory.
12. Talk us through your typical Christmas Day?
13. Do you have any Christmas traditions?
14. Real or fake Christmas tree?
15. Pictures with Santa…yay or nay? Share a fave.
We are delighted to see regular vloggers joining in with this project of ours and it was nice to see a couple of new faces last time. Thanks ever so much for creating a lovely little vlogging community we really appreciate it.
Really look forward to hearing your fav songs, so get linking Vlog Stars!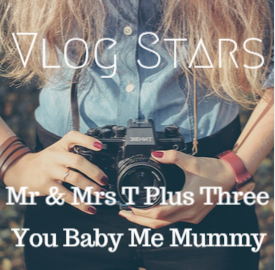 <div align="center"><a href="https://www.amytreasure.com" title="Mr and Mrs T Plus Three"><img 
src="https://i1249.photobucket.com/albums/hh520/GlimmerandGloss/Vlog%20Stars%20Badge_zpsursffhqe.png" alt="Mr and Mrs T Plus Three" style="border:none;" /></a></div>