Hello and a very warm welcome back to February's installment of Vlog Stars, the linky I co-host with the fabulous Aby from You Baby Me Mummy. Can't believe it's time for another link up already. Thanks to you all that linked up last time, we loved hearing your 5 things you can't live without and the one thing you could! A few were similar to mine so I know I am in good company with you lot.
This month Aby and I set you the 20 questions you can see a list of them under the video or scroll down in this post. My video is below and I must admit I cringed watching this back due to the amount of times I say what appears to be my favourite word…'Ummmmmm' It's so annoying and I apologise in advance, I'll try and cut it out for the next time I make a vlog!
You can catch up with Aby by checking out her 2o questions post and watching her vlog here.
Next month's tag that will go live on the second Thursday of May will be:
We want you to tell us your 20 all-time favourite songs, you can elaborate and tell us why you love each song/what they mean to you if you wish :)
We are delighted to see regular vloggers joining in with this project of ours and it was nice to see a couple of new faces last time. Thanks ever so much for creating a lovely little vlogging community we really appreciate it.
Really look forward to hearing your answers to the 20 questions, so get linking Vlog Stars!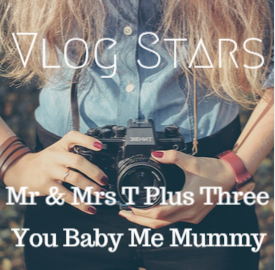 <div align="center"><a href="https://www.amytreasure.com" title="Mr and Mrs T Plus Three"><img 
src="https://i1249.photobucket.com/albums/hh520/GlimmerandGloss/Vlog%20Stars%20Badge_zpsursffhqe.png" alt="Mr and Mrs T Plus Three" style="border:none;" /></a></div>