Hello and a very warm welcome back to the July instalment of Vlog Stars the linky I co-host with the fabulous Aby from You Baby Me Mummy. Thanks to you all that linked up last time, we loved watching all your vids.
This month Aby and I asked you to join in with the 90s tag. This is such a fun tag and brought back lots of memories for me as I was a 90s kid!
Here's my video with guest star Rose who basically just sticks out her tongue and tries to lick me the whole time (!)
The questions for the 90s tag are in the description box below the video. Scroll to the end of this post to see the questions for next month's tag. Phew!
You can catch up with Aby by checking out her post and video here.
Next month's tag that will go live on the second Thursday of August will be:
The TMI tag!
1: What are you wearing?
2: Ever been in love?
3: Ever had a terrible breakup?
4: How tall are you?
5: How much do you weigh?
6: Any tattoos?
7: Any piercings?
8: OTP? (One True Pairing)
9: Favourite show?
10: Favourite bands?
11: Something you miss?
12: Favourite song?
13: How old are you?
14: Zodiac sign?
15: Quality you look for in a partner?
16: Favourite quote?
17: Favourite actor?
18: Favourite colour?
19: Loud music or soft?
20: Where do you go when you're sad?
21: How long does it take you to shower?
22: How long does it take you to get ready in the morning?
23: Ever been in a physical fight?
24: Turn on?
25: Turn off?
26: The reason I joined Youtube?
27: Fears?
28: Last thing that made you cry?
29: Last time you said you loved someone?
30: Meaning behind your Youtube Name?
31: Last book you read?
32: The book you're currently reading?
33: Last show you watched?
We are delighted to see regular vloggers joining in with this project of ours and it was nice to see a couple of new faces last time. Thanks ever so much for creating a lovely little vlogging community we really appreciate it.
Really look forward to hearing your fav songs, so get linking Vlog Stars!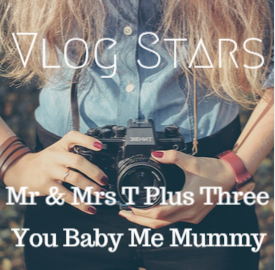 <div align="center"><a href="https://www.amytreasure.com" title="Mr and Mrs T Plus Three"><img 
src="https://i1249.photobucket.com/albums/hh520/GlimmerandGloss/Vlog%20Stars%20Badge_zpsursffhqe.png" alt="Mr and Mrs T Plus Three" style="border:none;" /></a></div>