Hello and a very warm welcome back to February's installment of Vlog Stars, the linky I co-host with the fabulous Aby from You Baby Me Mummy. Can't believe it's time for another link up already. Thanks to you all that linked up last time, we loved hearing your goals and ambitions.
This month we would love to hear 5 things you couldn't live without and one thing you could! Apologies that my vlog starts halfway through I was being a bit thick and forgot to press record. Doh!
You can catch up with Aby by checking out her confessions post and watching her vlog here.
Next month's tag will be:
We want to get to know you better so answer our questions below! (linky goes live every second Thursday of the month)
What thing can you not leave the house without?
Favourite brand of makeup?
Favourite flowers?
Favourite clothes shop?
Favourite perfume?
Heels or flats?
Did you do well at school?
Favourite colours?
Do you drink energy drinks?
Do you drink juice?
Do you like swimming?
Do you eat fries with a fork?
What is your favourite moisturiser?
Are you married?
Do you get mad easily?
Do you believe in ghosts?
Any phobias?
Do you bite your nails?
Have you ever had a near death experience?
Do you drink coffee?
We are delighted to see regular vloggers joining in with this project of ours and it was nice to see a couple of new faces last time. Thanks ever so much for creating a lovely little vlogging community we really appreciate it.
Really look forward to hearing your work/life goals, so get linking Vlog Stars!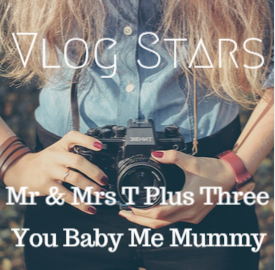 <div align="center"><a href="https://www.amytreasure.com" title="Mr and Mrs T Plus Three"><img 
src="https://i1249.photobucket.com/albums/hh520/GlimmerandGloss/Vlog%20Stars%20Badge_zpsursffhqe.png" alt="Mr and Mrs T Plus Three" style="border:none;" /></a></div>