Hello and a very warm welcome back to the October instalment of Vlog Stars, the linky I co-host with the fabulous Aby from You Baby Me Mummy. Thanks to you all that linked up last time, we loved watching all your vids.
We are absolutely delighted to have filmed Vlog Stars together this month. We filmed this straight after the MAD awards a couple of weeks ago at 1am and I was a little bit tipsy!!
This month we asked you to tell us your 7 dream dinner party guests, they can be anyone you like, alive or dead. I really enjoyed filming this one with my bestie and have watched it back 3 times, I love her so much! We hope you like it and have enjoyed filming yours.
Next month's tag that will go live on the second Thursday of November will be: Random questions tag
1. How did you get your youtube user name?
2. If you could change your name to anything, what would it be and why?
3. If you could go back in time and give your younger self advice, what would it be and why?
4. How old were you when you first learned to blow a bubblegum bubble?
5. What did you want to be when you were little?
6. What do you order at Starbucks?
7. What's the hardest you ever laughed?
8. If you could play any musical instrument, which would it be and why?
9. What's your favorite thing to do when your upset?
10. What's your favorite movie?
11. What's one food you can not live without?
12. What's your favorite dessert?
13. Favorite pizza topping?
14. Would you rather have the superpower to read minds, or the superpower to be invisible?
15. What did you do for your last birthday?
16. If you had one personal "selfish" wish, what would it be and why?
We are delighted to see regular vloggers joining in with this project of ours and it was nice to see a couple of new faces last time. Thanks ever so much for creating a lovely little vlogging community we really appreciate it.
Really look forward to hearing your fav songs, so get linking Vlog Stars!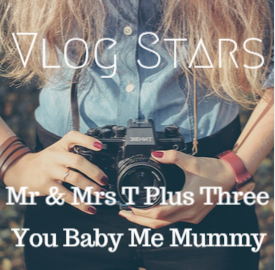 <div align="center"><a href="https://www.amytreasure.com" title="Mr and Mrs T Plus Three"><img 
src="https://i1249.photobucket.com/albums/hh520/GlimmerandGloss/Vlog%20Stars%20Badge_zpsursffhqe.png" alt="Mr and Mrs T Plus Three" style="border:none;" /></a></div>