Hello and welcome back to Vlog Stars the linky! Aby and I are delighted that all of you took the time and linked up again last month. We think you are all fabulous so thank you very much for joining in with our project.
For those of you who don't already know-Vlog Stars is a place to link up your vlogs. Each link up my beautiful co-host Aby and I will be choosing a theme for the vlog and we hope that you will all join in with the vlogging fun.
I can not believe it is November already and Vlog Stars is still going strong. You all rock!
This month's theme is Share a Story, and we would like you to pick from one of the topics below and tell us about it.
How you met your partner
Tell us your birth story
Tell us about where you live and what your house is like
I am very sorry about the quality of my video, I had builders in when I had to film it so had to go outside and then couldn't edit it at all or add any of my branding as couldn't open up my imovie which was so annoying!
Do pop along to hear Aby's story over on her YouTube channel too, hers will be much more polished than mine!
Next month's theme will be 'Ten Confessions' we would love it if you'd share ten confessions with us, these don't have to be serious ones, so don't worry about divulging all your secrets!
We are delighted to see regular vloggers joining in with this project of ours and it was nice to see a couple of new faces last month too. Thanks ever so much for creating a lovely little vlogging community we really appreciate it.
Really look forward to hearing your story this month, so get linking Vlog Stars!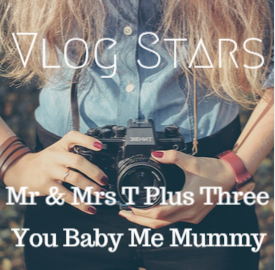 <div align="center"><a href="https://www.amytreasure.com" title="Mr and Mrs T Plus Three"><img 
src="https://i1249.photobucket.com/albums/hh520/GlimmerandGloss/Vlog%20Stars%20Badge_zpsursffhqe.png" alt="Mr and Mrs T Plus Three" style="border:none;" /></a></div>