Hello and a very warm welcome back to the June instalment of Vlog Stars, I can't actually believe we're halfway through the year already. Crazy! Vlog Stars is the linky I co-host with the fabulous Aby from You Baby Me Mummy. Thanks to you all that linked up last time, we loved watching all your vids.
This month Aby and I asked you to collect ten things from around the house that represent you. This was super easy for me as it's a video I've already made for a brand (which is what gave us the idea for the theme!) so you can see my original vid below:
You can catch up with Aby by checking out her video here.
Next month's tag that will go live on the second Thursday of July will be:
The 90s tag!
1. Favourite Disney film?
2. NSYNC or Backstreet Boys
3. Favourite music artist?
4. Favourite candy/sweet?
5. Weirdest fashion trend?
6. Favourite game console & game?
7. What would you watch after school?
8. Favourite book?
9. Favourite clothing store?
10. Best 90s memory? 
We are delighted to see regular vloggers joining in with this project of ours and it was nice to see a couple of new faces last time. Thanks ever so much for creating a lovely little vlogging community we really appreciate it.
Really look forward to hearing your fav songs, so get linking Vlog Stars!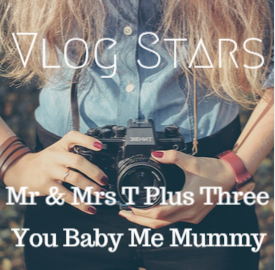 <div align="center"><a href="https://www.amytreasure.com" title="Mr and Mrs T Plus Three"><img 
src="https://i1249.photobucket.com/albums/hh520/GlimmerandGloss/Vlog%20Stars%20Badge_zpsursffhqe.png" alt="Mr and Mrs T Plus Three" style="border:none;" /></a></div>