Hello and welcome to 'Vlog stars' a new linky run by me and my beautiful co-host Aby from You Baby Me Mummy.
Vlog Stars is a place to link up your vlogs on the second Thursday of every month. Each link up Aby and I will be choosing a theme for the vlog and we hope that you will all join in with the vlogging fun!
The theme for this week is:
Getting to know you-meet the blogger 
Introduce yourself, tell us a bit about your family
Tell us the story behind your blog name?
How long have you been blogging/vlogging for?
Why do you like vlogging?
How regularly do you vlog?
What's a fav vlog you've made so far and why?
What do you use to film your vlogs?
How much effort goes into filming and editing each vlog?
Do you have a favourite Vlogger?
What would be your dream brand collaboration?
If you could only blog OR vlog from now on, which would you chose?
Tell us a funny story about you!
So what are you waiting for vloggers? Get filming and tell us all about you! Grab the badge below and come link up your lovely vlogs!
Next month's theme is:
The rules are you are supposed to give three answers to each question and answer all the 20 questions in under 3 minutes! Impossible you say? Aby and I will be giving it a go and hope you try it next month too. We link up 'A few of my favourite things' on the 11th June.
Products
Foods
Places
Things you'd miss
Things you do when you're bored
Things you enjoy when it's sunny
Films
Songs
Brands
Outdoor things that you like
Events
Cartoons
Buildings
Anything in everyday life
Traits in any person, not just partners
Influences
Drinks
Experiences
Things to watch
Youtubers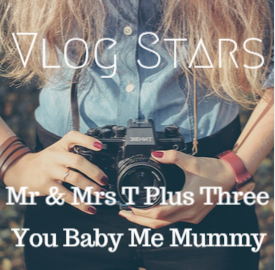 <div align="center"><a href="https://www.amytreasure.com" title="Mr and Mrs T Plus Three"><img src="https://i1249.photobucket.com/albums/hh520/GlimmerandGloss/Vlog%20Stars%20Badge_zpsursffhqe.png" alt="Mr and Mrs T Plus Three" style="border:none;" /></a></div>