Hello and welcome back to Vlog Stars the linky! Aby and I were delighted that so many of you linked up last month, we think you are all fabulous so thank you very much for joining in with our project.
Vlog Stars is a place to link up your vlogs on the second Thursday of every month. Each link up my beautiful co-host Aby and I will be choosing a theme for the vlog and we hope that you will all join in with the vlogging fun.
The challenge this month is to give three answers to each question listed below and complete the set of questions in three minutes or under. A lot harder than it sounds. Do you think I managed it? You'll have to watch my video to find out!
A few of my Favourite Things
Products
Foods
Places
Things you'd miss
Things you do when you're bored
Things you enjoy when it's sunny
Films
Songs
Brands
Outdoor things that you like
Events
Cartoons
Buildings
Anything in everyday life
Traits in any person, not just partners
Influences
Drinks
Experiences
Things to watch
Youtubers
VIDEO
Next month's theme is 'Highs and Lows of parenting' I love being a mum but we all know it is exhilarating and trying in equal measure. We would love to hear your 5 highs and 5 lows of parenting, the good and the not so good. I'm betting lack of sleep is going to be pretty high up on everyone's 'Low' list!
So what are you waiting for vloggers? Get filming and attempt this month's challenge. Grab the badge below and come link up your lovely vlogs!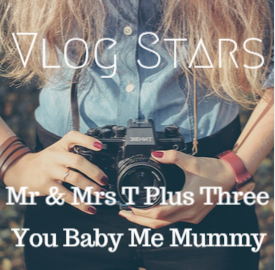 <div align="center"><a href="https://www.amytreasure.com" title="Mr and Mrs T Plus Three"><img src="https://i1249.photobucket.com/albums/hh520/GlimmerandGloss/Vlog%20Stars%20Badge_zpsursffhqe.png" alt="Mr and Mrs T Plus Three" style="border:none;" /></a></div>