Hello and welcome back to Vlog Stars the linky! Aby and I were delighted that so many of you linked up again last month and the fantastic response that we've had. We think you are all fabulous so thank you very much for joining in with our project.
A special thank you to those of you who took us up on the 'Lip sync for a lipstick' challenge, you guys absolutely rock!
Aby and I are both choosing our favourite videos from the link up last month-you will have to watch our videos to find out who won the bonus challenge though!
My favourite from The Highs and Lows of parenting was this video from Mrs Teepot-the lovely Livi doesn't have children but she does have some seriously cute fur babies! I loved the way Livi joined in with the theme and put her own unique spin on it, her vlog telling all about the highs and lows of pooch parenting was fab. She's a natural on camera so be sure to check her out! You can see Aby's fav from last month here.
For those of you who don't already know-Vlog Stars is a place to link up your vlogs on the second Thursday of every month. Each link up my beautiful co-host Aby and I will be choosing a theme for the vlog and we hope that you will all join in with the vlogging fun.
Here are our videos for this month's theme 'This or That?' a list of the questions can be found underneath my video or here.
Next month's theme is the 'A little bit of everything' tag.
The questions:
Do you keep up with the Kardashians?
If you could have an old muscle car which one would you choose?
Do you curse like a sailor when the camera isn't rolling?
If your significant other gave you a 'Hall Pass' who would you use it on? Be honest.
What is one thing you do that you hate to admit?
Do you really brush your teeth in the morning and at night? Be honest.
What is your go-to drink at Starbucks?
Is your current hair color your real hair color?
If you could swap bodies with someone, who would it be and why?
Have you read Fifty Shades of Grey? If so, what did you think?
Do you crack your knuckles?
Have you accidentally text messaged someone something you were suppose to be sending to your special someone?
Have you ever created a fake profile to creep on someone?
Which is your weakness- cookies or pastries?
What do you love about yourself?
Do you have to match your nail polish to your toe nail polish?
Tell us a few things about you that people would be surprised to know about you.
Heels or flats?
If you could do anything for one day and money wasn't an option, how would you spend your day? Dream big.
What was the last YouTube video you watched?
Do you have road rage?
What is your favorite Rock 'n' Roll song?
Who was your first kiss? Do you still talk to them?
If you could have one YouTuber's closet whose would it be?
If you could have one YouTuber's makeup collection, whose would it be?
Do you have a nickname?
What do you think is the best thing about your YouTube channel?
How many cars have you had? What were they?
What's your favorite pizza?
If you could only have 1 lipstick for the rest of your life which lipstick would you choose?
We think this is such a fab list of questions and ones we haven't covered before so it will be so great to hear even more about you guys!
For now I look forward to watching your 'This or That' vlogs. You know what to do..link up below you Vlog Stars!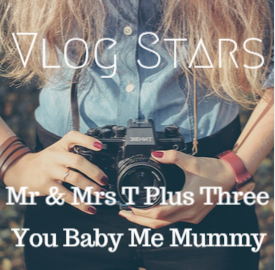 <div align="center"><a href="https://www.amytreasure.com" title="Mr and Mrs T Plus Three"><img src="https://i1249.photobucket.com/albums/hh520/GlimmerandGloss/Vlog%20Stars%20Badge_zpsursffhqe.png" alt="Mr and Mrs T Plus Three" style="border:none;" /></a></div>