Hello and welcome back to Vlog Stars the linky! Aby and I were delighted that so many of you linked up again last month and the fantastic response that we've had. We think you are all fabulous so thank you very much for joining in with our project.
For those of you who don't already know-Vlog Stars is a place to link up your vlogs on the second Thursday of every month. Each link up my beautiful co-host Aby and I will be choosing a theme for the vlog and we hope that you will all join in with the vlogging fun.
This month the theme is 'Highs and Lows of Parenting' I adore being a mother and believe it is what I was put on earth to do, however it can be exhausting and exhilarating in equal measure. We would like to hear you guys talking about-
your five highs and
your five lows of parenting
We also have a special fun 'bonus challenge' this month; an idea that came about at BritMums and we do hope that you will indulge us by accepting the challenge! You can find out more and watch mine and Aby's attempts here.
Next month's theme is 'This or That?' These are a series of quick fire questions, chose one answer or the other but not both!
Here are the questions:
Coffee or Tea
Lipstick or Lip gloss
Morning or Evening
Dogs or Cats
Washing or Drying
Pattern or Plain
Star Wars or Star Trek
Spend or Save
Make up or Natural
Summer or Winter
Xfactor or The Voice
Heaven or Hell
Madonna or Lady Ga Ga
Eastenders or Corrie
Curry sauce or Gravy
Uk or Abroad
Box set or TV
Book or Kindle
Bath or Shower
Take away or Fakeaway
Big pants or Thong
Fake tan or Real tan
Night out or Night in
Classical or Rock
Sweet or Savoury
Feel free to keep your vlogs snappy or elaborate on your choices. It's up to you.
If anyone has any ideas about a theme or challenge YOU would like to film for Vlog Stars then let me know in the comments or get in touch with Aby (@YouBabyMeMummy) or I (@MrandMrsTplus3) on Twitter. One of us is around most of the time. We want you to get involved and build this little vlogging community of ours :-)
We can't wait to watch all your vlogs again this month. So, what are you waiting for? Grab the badge below and link up your vlogs!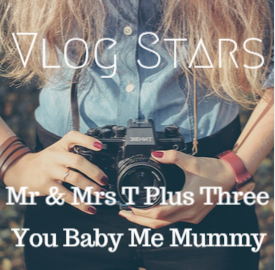 <div align="center"><a href="https://www.amytreasure.com" title="Mr and Mrs T Plus Three"><img src="https://i1249.photobucket.com/albums/hh520/GlimmerandGloss/Vlog%20Stars%20Badge_zpsursffhqe.png" alt="Mr and Mrs T Plus Three" style="border:none;" /></a></div>