Hello and a very warm welcome back to February's installment of Vlog Stars, the linky I co-host with the fabulous Aby from You Baby Me Mummy. We are back again this month sharing our work and life goals for 2016, so why not join in and tell everyone your ambitions!
We would love for you to share 3 work goals and 3 life goals for the year ahead. What are your hopes and dreams for 2016? Mine are all relatively simple and achievable (hopefully!) so that's good.
You can catch up with Aby by checking out her confessions post and watching her vlog here.
Next month's theme will be:
5 things you cannot live without and one thing you could! (linky goes live every second Thursday of the month)
Tell us which 5 things you couldn't possibly live without and one thing you could do without! I can think of a few already…
We are delighted to see regular vloggers joining in with this project of ours and it was nice to see a couple of new faces last time. Thanks ever so much for creating a lovely little vlogging community we really appreciate it.
Really look forward to hearing your work/life goals, so get linking Vlog Stars!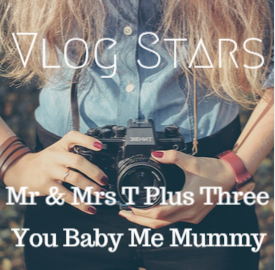 <div align="center"><a href="https://www.amytreasure.com" title="Mr and Mrs T Plus Three"><img 
src="https://i1249.photobucket.com/albums/hh520/GlimmerandGloss/Vlog%20Stars%20Badge_zpsursffhqe.png" alt="Mr and Mrs T Plus Three" style="border:none;" /></a></div>