Enormous Rolo Cookies stuffed with chocolate chips and oozing with delicious melted rolos. They are soft, chewy and completely irresistible; you'll never give away the last one...
Holy moly I never realised a cookie could be so addictive until I made these Rolo Cookies, they are insanely good. I like a cookie as much as the next sweet treat lover but I've never had anything quite as good as these.
No chill recipe
For starters, this cookie recipe is so EASY. It only takes about ten minutes to mix the ingredients together and you don't have to chill the dough unless you want to.
Don't get me wrong, chilled cookie dough will always result in much thicker cookies. I've found that 2 hours is a good amount of time but 24 hours is even better. However, the good thing about these particular cookies is you don't *have* to chill them to get amazingly soft, chewy and tasty cookies.
FYI: I did not chill the dough for the Rolo Cookies you're seeing here so if they look thick enough for you, skip the chilling!
It takes precisely 9 minutes to bake Rolo cookies in the oven so all in all you could have these delicious morsels in next to no time with very minimal effort.
Why use brown sugar in cookies?
Use more brown sugar than white because this yields a much softer, chewier cookie. Brown sugar adds moisture and flavour to cookies.
Cornflour for extra softness
I've added two teaspoons of cornflour and even though it's a tiny amount in comparison to the rest of the ingredients, it makes all the difference in making cookies lovely and soft.
Think of cornstarch as your cookie secret weapon. Once you've used it for cookie baking, you'll never want to leave it out again.
How to make Rolo Cookies
You'll make the cookie dough by creaming together the butter and sugars until they are well blended. To do this, I use a handheld electric whisk with the beater attachments. If you need to, you can do it by hand with a wooden spoon or whisk - it will just take a little elbow grease.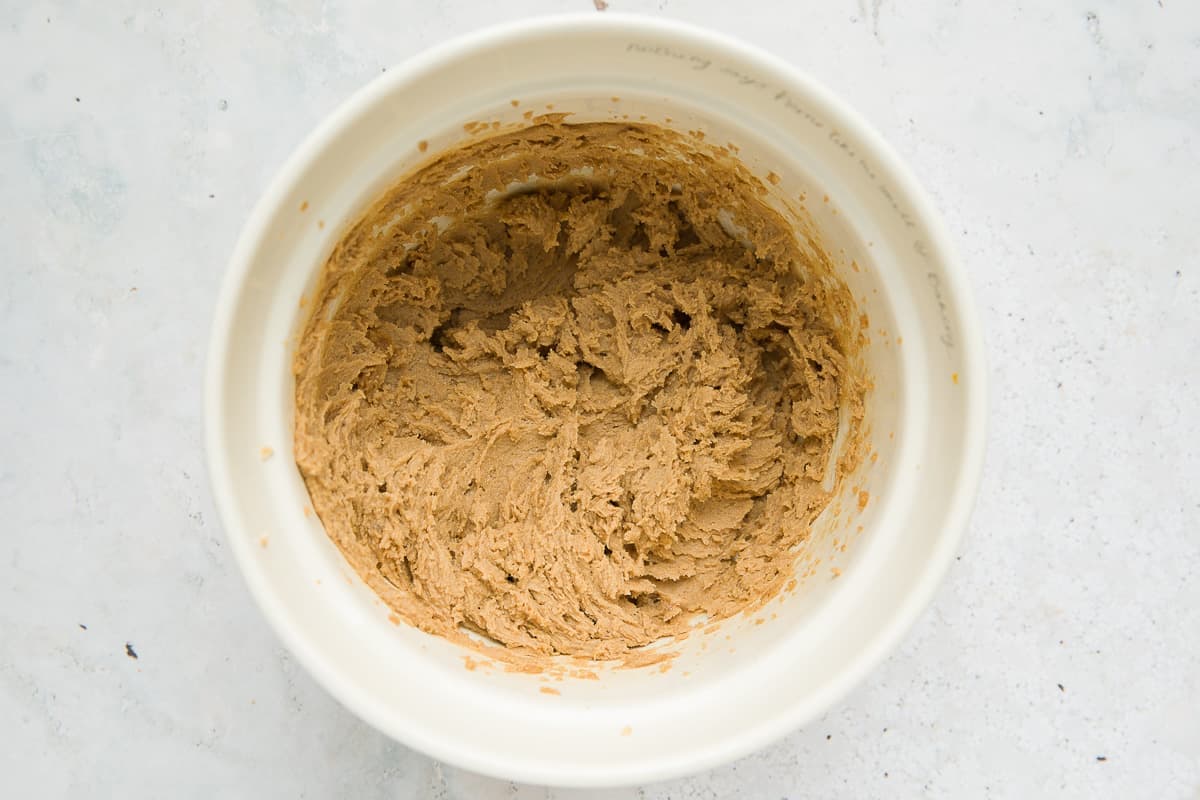 Next add the eggs, vanilla, bicarb of soda, salt and flour. When everything is combined, tip in the chocolate chips and Rolos. I chop some of the Rolos in half and some into quarters.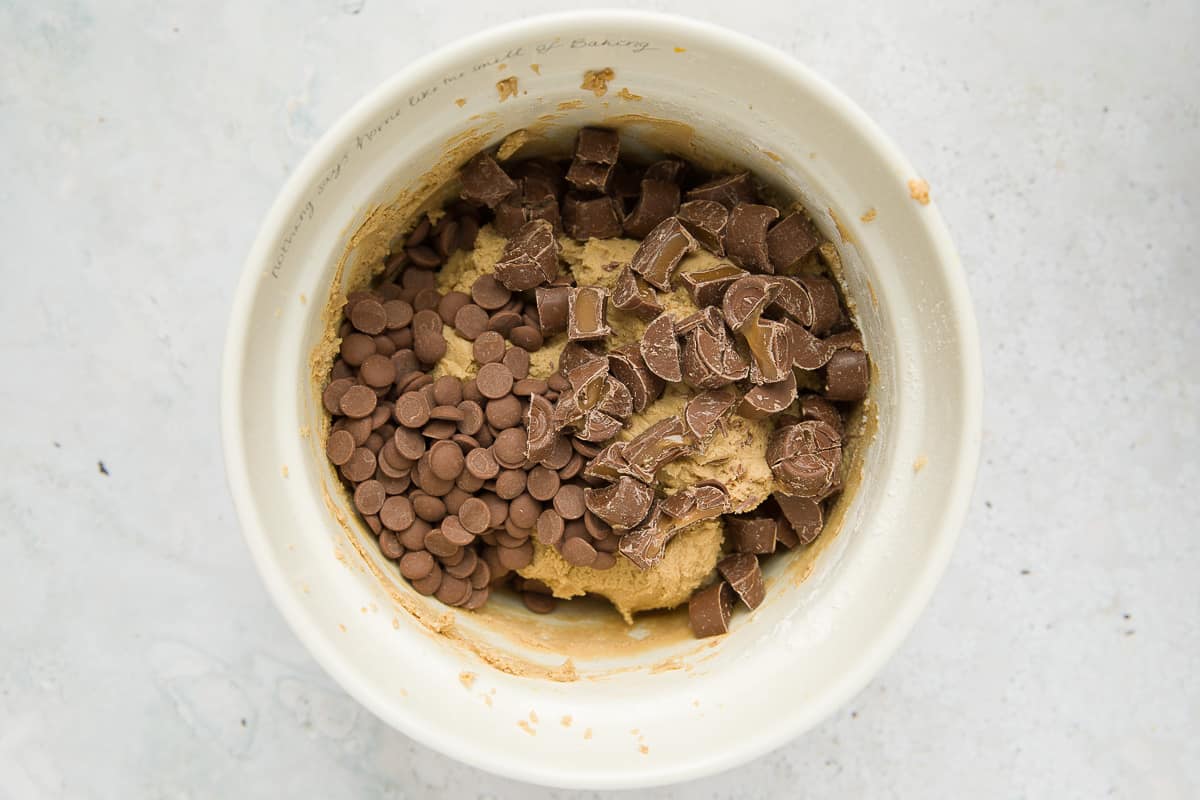 Using a spatula fold the chocolate chips and Rolos into the cookie dough. The dough will get quite stiff and become difficult to stir but try and make sure the Rolos are evenly distributed.
Now use your hands to roll the dough into balls. I wanted to make really big cookies so I made my balls the same size as a golf ball. Making them this large means that you can only bake around 5 or 6 cookies at a time, but I think it's worth it for massive Rolo cookies!
How to get the best topping
Here's where I did two more tests. I wanted to see if it was better to push the Rolos into the cookie dough before baking them. Or, push Rolos into the cookies once they were baked but still hot from the oven.
Rolos added before baking
Here's what the cookies looked like when I pushed Rolos into the unbaked cookie dough.
Rolos added after baking
And here's how the cookies turned out when I added the Rolos into freshly baked hot cookies.
As you can see, the cookies that had the Rolos added before baking spread a lot more and the Rolos collapsed and melted.
The cookies that didn't have Rolos added to the top during baking kept their shape much better. The Rolos still melted and went soft but they didn't explode all over the top of the cookie.
Conclusion: It really depends if you want neater looking cookies or messier ones. You could always try it both ways and see which ones you like best. Either way they both tasted amazing so I really can't call it!
Bake cookies one tray at a time
This recipe produced 16 cookies because I wanted the cookies to be quite big. The cookies are golf ball sized and need to be spaced out about 3 inches so I could only fit 5 or 6 on one tray. As cookies bake best on the middle shelf of the oven I baked one tray at a time.
Baking cookies in batches might seem like a bit of a pain but as they bake so quickly the entire batch of cookies can be baked in under 30 minutes. Trust me, it's worth it for Rolo Cookie perfection.
Amy's Top Tip! If your cookies spread too much during baking, when you take them out of the oven use a butter knife to pull the edges back into a circle shape.
Secrets to soft and chewy cookies
Adding cornstarch results in a much softer cookie
Creaming the butter and sugar until light and fluffy makes cookies softer.
Use more brown sugar than white, the extra moisture in the brown sugar means a chewier softer cookie.
Use your hands to mould the cookie dough into balls the size of a golf ball this will result in big chewy cookies.
Undercooked cookies will always be softer and chewier. Don't worry if the middle looks a bit gooey!
More tempting cookie recipes
Irresistible Rolo Cookies
Enormous Rolo Cookies stuffed with chocolate chips and oozing with delightful melted rolos. They are soft, chewy and completely irresistible; you'll never give away the last one…
Ingredients
225 g butter, at room temperature
200 g dark brown soft sugar
90 g caster sugar
2 medium eggs
1 tsp vanilla extract
400 g plain flour
1 tsp bicarbonate of soda, (baking soda)
1 tsp salt
120 g chocolate chips
166.4 g Rolos, chopped - this equates to 4 tubes of Rolos from a multipack
83.2 g Rolos, for topping - equates to 2 tubes of Rolos from a multipack
Instructions
Preheat the oven to 180ºC / 160ºC fan / Gas 4 / 320ºF Line a baking tray with parchment paper.
Cream the butter and sugars until light and fluffy and very well blended.
Add the eggs and vanilla extract and beat well until combined.
Add the flour, bicarbonate of soda and salt and mix until well combined. Don't be afraid to overmix these are cookies not cake!
Tip in the chocolate chips and chopped Rolos and fold together using a spatula. Make sure the chocolate chips and Rolos are well distributed throughout the cookie dough.
Roll the dough into balls the same size as a golf ball and space out 3 inches apart of a baking tray. You will probably only be able to fit 5 or 6 cookie balls on the tray.
Push the Rolos into the top of the cookie balls or you can wait until after the cookies are baked (see notes).
Bake in the centre of the oven for 9 minutes. The cookies should be slightly browned on the edges and soft and gooey in the centre. Remove from the oven and leave to cool on a wire rack. Repeat for the remaining cookie dough.
Notes
If you want your cookies to have completely melted Rolos over the top, push the Rolos into the dough before you bake the cookies. 
If you'd prefer Rolos still intact, you can push them on top of the cookies as soon as they come out of the oven. 
See pics in the blog post for a visual comparison!
Storage: Rolo Cookies will stay fresh for a week if stored in an airtight container. You can freeze baked or unbaked cookie dough for up to three months. 
Nutrition Information:
Yield:

16
Serving Size:

1 grams
Amount Per Serving:
Calories:

382
Total Fat:

14g
Saturated Fat:

9g
Unsaturated Fat:

0g
Cholesterol:

56mg
Sodium:

321mg
Carbohydrates:

30g
Fiber:

1g
Sugar:

10g
Protein:

3g