Last weekend we went to visit Cornwall and stayed at the fantastic Seaview Holiday Village* in Polperro which is close to the town of Looe. It worked out perfectly with it being a bank holiday weekend which meant we had plenty of time to relax at the holiday park as well as explore the local area.
I have memories as a child of visiting my grandmother in nearby Torpoint but in recent years we have opted to pop across the Severn bridge and staycation in Wales as opposed to Cornwall, and my goodness have I missed it down there. You just can't beat it for picture perfect scenery everywhere you look and a whole host of activities and places to visit. There is just so much to see and do.
Seaview Holiday Village was the perfect base for our cornish adventure. It's been quite some time since we stayed in a caravan, in fact, we haven't done this sort of mini-break since Lewis (now 17) and Holly (now 16) were very little. I was slightly apprehensive that there wouldn't be enough space to fit us all, especially now that we have a whirlwind of a toddler in tow but there was no need to worry as we were given a three bedroom luxury caravan for our stay.
The caravan itself was spotlessly clean and had plenty of space for all of us plus lots of storage (teenagers don't travel light!) There is a large living area and kitchen with a fridge/freezer and a good sized gas oven. The main bedroom even had an en-suite! The seating area in the living room was corner shaped which meant we could all sit together in the evenings giggling away at X Factor and hatching plans for the following day. On the first evening, I opened the door of the caravan park to be greeted by the most beautiful pink sky. I looked out to watch the sun setting over the sea and it  really was a stunning sight.
Seaview is a medium sized holiday park, you can easily walk around it and there's lots of green space for the children to run about.  There's a restaurant, bar, small shop and also a brilliant indoor swimming pool- a big hit for the kids as was the adventure play area just outside the restaurant. On the first evening after a dip in the pool, we ordered food from the restaurant and sat out on the terrace whilst Rose ran about.
It was lovely to see that the park has activities available for the children during the day and there is also entertainment each evening which adds to the holiday village feel.
Seaview are challenging holidaymakers to take 500 amazing photos on their smartphone this summer. While we were there we joined in with the challenge and if you look on my Instagram all the images tagged with #Seaviewpix were taken on my iphone 6. You can join in too, there's more info on the challenge here. You could even win £500.00 towards your next holiday with Seaview!
For ideas on how to take better pictures with your smartphone, you can check out the super talented Elaine Taylor's top tips.
Regular readers will know that there's no way I could have left my 'big camera' at home, not with so many amazing photo ops to be had. I've marked the images in this post taken with my iPhone, let me know in the comments if you could spot the difference!
If you're adventure seekers like us, and you want to fit as much into your stay as possible then I would recommend downloading the App for Cornwall to help with your planning. It's a really handy app that lets you explore different activities and places of interest by genre. Click on what you fancy doing and everything you need to know will be right at your fingertips. I love apps like this as everyone can get involved in deciding what to do and the pictures and information really help you see what's in store, which is great to show the kids and encourages them to read up on the history of places on the way there!
Tintagel Castle
Our first stop was Tintagel Castle one of Cornwall's most iconic and popular visitor attractions. Tintagel is linked with the legend of King Arthur and the site is perched at the top of a cliff with a sea view as far as the eye can see. It is a very steep climb to the top but it was so worth it. We went late in the afternoon and stayed until closing time to watch the sun going down which was absolutely breathtaking.
Here's me just casually sitting on the edge of a rock (trying not to plummet to an untimely death) at the top of Tintagel Castle...
The man himself King Arthur!
We were all taken aback at how serene it was up there. Here's Lewis getting his pose on!
And little Rose who managed to stay still for a millisecond...
Boscastle and the Museum of Witchcraft and Magic
Next up was a short drive to Boscastle and a visit to the fantastic Museum of Witchcraft and Magic. The bigger kids were desperate to go here and I wasn't quite sure what to expect but it really is well worth a visit. The museum is as intriguing as it is unique with the world's largest collection of items relating to witchcraft, magic, and the occult. Set over to floors with 25 permanent displays and others that change annually it is a real place of interest.
This section of the museum was like stumbling across Hogwarts potion room, there were so many bottles full of interesting herbs all labeled with what ailments they could cure which was fascinating.
All of the exhibits were presented well with lots of information. We even found a little fairy, much to Rose's delight!
The museum is located in one of the prettiest villages we've ever set foot in. On arrival we noticed a stream so climbed down and splashed about for a bit skimming rocks and eating the blackberries from the nearby bushes. It was heavenly!
Eden Project
On Sunday we headed off to Eden Project which was a good call as the weather wasn't looking great for the morning. We have been to Eden Project before quite a few years ago when Lewis and Holly were much younger so it was lovely to go back with little Rose.
When you walk down the pathway and spot the biomes it is honestly a sight to behold: they remind me of the set of a James Bond film. The huge honeycomb structure really is quite spectacular. There are two main biomes, one being a rainforest theme and the other is the Mediterranean. My favourite is the rainforest, it is quite hot in there but it's just so interesting I wanted to stop and read every piece of information I could, which isn't easy with a three-year-old eager to run off ahead and explore.
I walked away from the rainforest biome with a bit of a heavy heart at the realisation of the devastating effects mankind has on the world and communities that inhabit the rainforest, I made a deal with myself to be more conscientious and really try to make a difference somehow.
The Eden Project, an educational charity, connects us with each other and the living world, exploring how we can work towards a better future-The Eden Project
The Mediterranean biome has a lovely looking restaurant inside. Walking in I was transported straight back to our last family holiday in Portugal. It's mad really to think it was grey and raining outside but you really do feel like you're abroad! I was fascinated by all the food that they've grown inside this biome and of course, have vowed to have a real good go at a vegetable plot at home (they do make it look easy, though!)
Outside there's loads to see and do, so many plants and flowers that I could have wandered around all day taking photographs. There are some really pretty places to stop and sit down for a bite to eat and plenty of pitstops to buy a good cup of coffee.
The only disappointment was the enourmous queue to get into the temporary dinosaur exhibition biome. It was probably our fault for leaving it too late though as when we walked past earlier in the day it would have been fine. So apart from the couple inside the med biome we didn't see any dinosaurs, unfortunately!
If you're visiting Cornwall then Eden Project is one of those places you just can't miss. It is absolutely brilliant!
Carlyon Bay
As the weather had brightened up by the time we left Eden Project we decided to stop off at a beach on the way back to the holiday park. We liked the sound of Charlestown so stopped there. I was not expecting such an amazing setup with a bar on the beach and several food trucks. It was like being in Australia! Such a nice surprise. The beach itself is utterly stunning and although I hadn't thought to bring towels or swimming stuff, Justin and Rose braved the sea (which looked freezing) anyway.
I can't tell you how wonderful it was sitting on that beach with Lewis and Holly beside me watching Justin and Rose playing in the sea. My whole family right there, in that perfect moment. I just felt so lucky!
Sisterly love: Holly sharing her hot chocolate with Rose!
Polperro
On our final day we checked out early and stopped off at the little town of Polperro. The locals obviously cherish this town as there's no access to cars (unless you are lucky enough to live there) There's a car park priced at around £4.00 for 3 hours and a short walk down to the town.
Polperro looks as though it's been frozen in time, it's the most quaint fishing village surrounded by breathtaking scenery and lots of interesting shops and cafes. We went down to the beach and paddled in the blue waters of the cove and watched the sun rise high into the sky, glistening and shining.
We grabbed a coffee and walked around the streets and found a house entirely decorated with shells. Holly and I stopped for pictures, obvs!
Find a house covered in shells. Stand against the wall. Get your pose on. Have a bit of a giggle because your hubs is stood there holding all the bags waiting for the end of your 'photo session'.
At the top of the path, you can look down onto the village which looks so pretty coupled with the dramatic cornish coastline. I had lots of people on social media telling me they would holiday there year after year as children and it's not difficult to see why people would choose to return. We will absolutely go back and spend some more time there one day.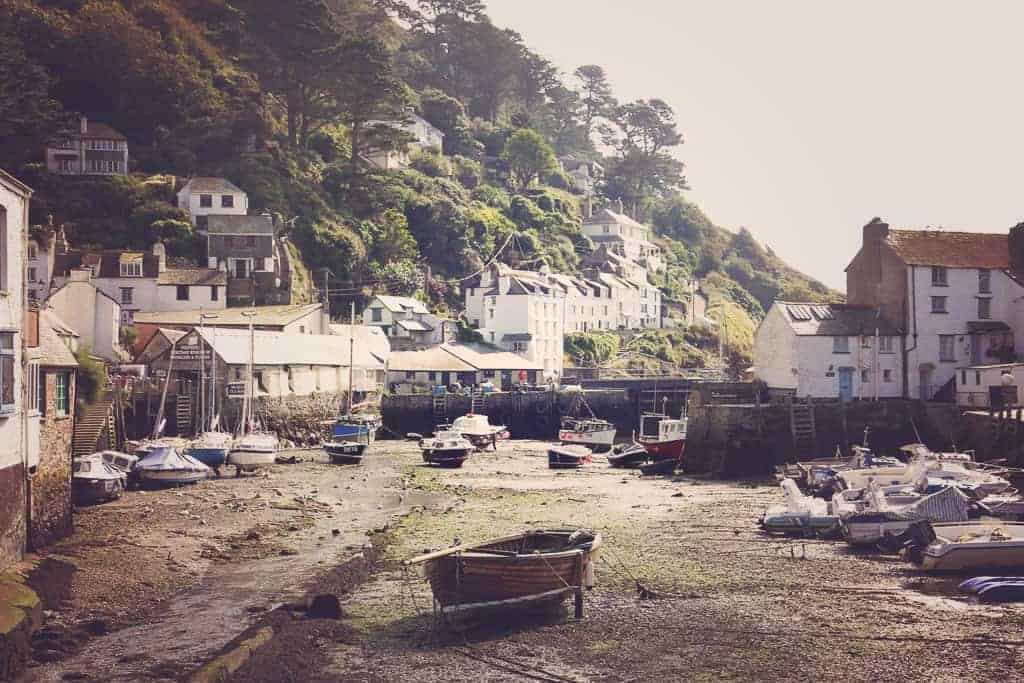 As you can see we packed a lot into our cornish mini break and what an adventure it was. We all absolutely loved it and had a wonderful time. I can't wait to go back and visit again. I would definitely recommend Seaview Holiday Park, as I mentioned it was the ideal base and it's a lovely place to stay with fantastic staff that make you feel truly welcome and at home.
Perhaps we'll be doing more caravan holidays from now on!
Don't forget to join in with the Seaview Holiday Village 500 pictures photo challenge!
*Thanks to Seaview Holiday Village for inviting us for the weekend and for arranging press passes to local attractions.