I pondered whether to call this round-up of alcoholic drinks a gift guide OR a buying guide. Because let's face it: giving alcohol as a gift is very nice but keeping it and drinking it yourself is even better.
You might be mulling over what festive tipple to buy the kid's teacher, or planning your Christmas cocktails to ensure you're the hostess with the mostess. Either way, I have the best beer, wine and spirits to tempt you.
Just think of me as your brand new boozy BFF...
Rock Rose Gin - Winter Edition
G&T is my go-to drink and this beautiful botanical is perfect for Christmastime. The hero botanical is hand-foraged spruce tips, making Rock Rose the only gin in the world to be made from Christmas trees!
The original Rock Rose elements have been scaled down to allow the delightful earthy and slightly citrusy notes from the spruce tips to shine through. Worthy of every accolade and award its achieved this gin is truly spectacular.
Rock Rose Gin by Dunnet Bay Distillers - RRP: £34.00/700ml
The gin decanter and balloon glasses in the photograph are from Domu. 
The Duppy Share Caribbean Rum
Back in the summer, I went to a Rum and Ragae night and I have been rather partial to a rum cocktail ever since. The Duppy Share is a carefully balanced blend of all natural 3-year old Jamaican and 5-year old Barbadian rum. It's got the classic golden brown colour of rum and is super smooth, rich and fruity. Think brown sugar and grilled pineapple with a hint of gentle sweetness.
The Duppy rum would make a brilliant gift or the perfect New Year's Eve punch drink. It's a bright and bold mixer or can be slowly sipped, and always shared, obvs ;-)
The Duppy Share is available at Asda, Co-Op and Sainsbury's - RRP: £27.00/700ml
Celia Dark Lager
This could be one for the man in your life, however, I know plenty of ladies that like a good lager and I count myself as one of them. The Celia lager is 100% organic and brewed using just three ingredients, Celia Organic is a premium craft Czech lager traditionally batch-brewed for more than two months and made with local protected noble Saaz hops, which give a distinctive floral aroma.
Celia dark is densely black with an almost ruby red hue and a distinctive coffee like aroma with slightly nutty and rye bread undertones.  It is thick and chewy on the palate with a big toasted malt character.
Celia dark lager is 100% organic, gluten-free, GMO-free, with no added preservatives. It's also vegetarian and vegan. With so few ingredients there's no surprise this lager ticks so many of the free from boxes. Definitely, one to stock up and will suit most of your guest's needs.
Celia Dark Lager is available at Waitrose, Ocado and Tesco - RRP: £2.29/330ml
Baileys Almande
Is it really Christmas without Baileys? Did you know Baileys have created an indulgent and decadent treat that can be enjoyed by those who are either dairy intolerant or vegan?
And it is EVERYTHING!
The vegan forums I'm in have been going nuts for Baileys Almande (pun intended!) and it's not hard to see why.
The Almande is everything I want from a Christmas tipple: Smooth, creamy and sweet. With notes of honey, real vanilla and of course, almond, this glorious drink is best served over lashings of ice. Your Christmas drinks cabinet shouldn't be without a bottle (or two!)
Baileys Almande is available at all major UK supermarkets - RRP: £20.00/700ml
Intervino Letterbox Wine
Take a product, make it into a personalised gift, post it through the letterbox. But what if that product is wine?
It wasn't until the day before my special package from Intervino arrived that I suddenly thought 'How on earth will a bottle of wine fit through my letterbox, and won't it smash?' Turns out Intervino have invented a way of sending this unique gift as a flat PETG bottle perfectly sized to fit through a letterbox and get this: it contains a full 750ml of wine! It's seriously, seriously cool.
You chose from red, white or rosé, select a label design and chose a message for the personalised label and Intervino will take care of the rest.
Perfect as a personal gift to a loved one or for corporate gifting.
Intervino Letterbox Wine - RRP: £19.99/750ml
Skinny Lager
More lager next and this isn't just any lager, it's a skinny version with only 89 calories a bottle. No beer belly here thank-you-very-much! Skinny Brands are the makers of 'skinny' alternatives and they've really come up trumps with this refreshingly malty beer that's 35% fewer calories than regular lager.
It's crisp, clean and refreshing and on sampling, I can't detect a hint of 'skinniness' so whatever they've done it's magic. Imagine how much extra Christmas pudding you can have once you've saved all the calories from the lager. Genius!
It's the perfect drink choice for everyone this festive period. Do you have friends, colleagues or family members who are vegan, vegetarian or have a gluten-free diet?  Skinny Lager meets all of these requirements, making it suitable for celebrating together, no matter your diet - cheers to that!
Note to Skinny Brands: if you could just work on reducing the calories of a chocolate orange that would be fab, thanks ;-)
Skinny Lager is available at ASDA, Tesco, Morrison's and Co-op stores - RRP: £5.99/case of 4
When in Rome
Do as the Romans do...
This is the UK's first premium 'bag-in-a-box' wine and it is just fabulous. The When in Rome boxed wine is a premium craft wine from small Italian producers and is perfect for large gatherings.
Forget what you think you know about boxed wine; this is great tasting and Italy's best-kept secret. When in Rome put high quality, authentic wines into boxes and bring them to the UK. It's cheaper and better for the environment and it lasts open for weeks!
The red Nero d'Avola Sicily I was sent is bold and fruity, bursting with berries plus a hint of black pepper and cloves. I LOVE red wine and I must say I was amazed that this wine came out of a box. Pairs wonderfully with a roast or (if your veggie like me) a robust lentil or mushroom dish. Absolutely delicious.
When in Rome is available at Waitrose and Harvey Nichols - RRP from: £25.99
British Cassis
Fancy a Kir Royale? Just the name of this sparkling cocktail is enticing, isn't it? British Cassis is handmade in Herefordshire by Jo Hilditch, a fourth-generation blackcurrant farmer. The rich soil and summer sunshine result in the most succulent berries pressed on the day of harvest to capture the intense flavours.
This not too sweet, intensely flavoured British Cassis is the perfect aperitif served straight or over ice. It twists beautifully into fizzing champagne or prosecco and is decadent in cocktails.
It tastes to me of intense blackcurrant the initial sweetness is beautifully balanced with the sharp aftertaste. I've never had anything quite like it and it was love at first sip! It's a wonderful aperitif and classy mixer but would also be amazing in a trifle or drizzled over vanilla ice cream.
If you're a fan of blackcurrant you will really enjoy this stunning liqueur.
British Cassis is available at Waitrose and Majestic - RRP: £19.99/500ml
Proudly Vegan
The only truly vegan wine available in the UK right down to the ink and glue on its label. As you know, this is a veggie blog and I have loads of vegan readers too so I'm really delighted to showcase this fantastic vegan wine in my gift guide. Available as Sauvignon Blanc, Merlot and Rosé these wines taste amazing.
The Sauvignon is zesty, clean and crisp with a good bite and hint of fresh lime. Serve with risotto, lemon and garlic pasta or a herby salad.
The Merlot is elegant, soft and fruity with a jammy flavour. Serve with fresh pasta with tomato, onion and garlic sauces or roast butternut squash with herbs or light spices.
The Rosé is bright and lively with violet and floral aromas. Serve with baked vegetables or tomato and olive crostini.
Proudly Vegan is available at Ocado - RRP: £6.99/750ml
Haig Club Single Malt Whiskey
Iconic Single Malt Whiskey created in partnership with David Beckham. This whiskey comes in such a stylish and distinct bottle it would make the perfect gift. I am not usually a whiskey drinker but I tried this in a cocktail and found it super smooth, creamy and much lighter than I was expecting.
I used to think single malt was reserved for distinguished gentlemen with a moustache and pipe but actually I really quite like this! If you're looking to dabble in a drop of whiskey then Haig Club is an excellent place to start. There's something very suave and sophisticated about this single malt and the branding is spot on.
The Haig Club Whiskey delivers a real flavour experience - look out for the notes of citrus uniquely blended with butterscotch and toffee. You will most certainly raise the style stakes with Haig Club this Christmas!
The ice bucket photographed alongside the whiskey is available from Domu. 
Chalkdown Sparkling Cider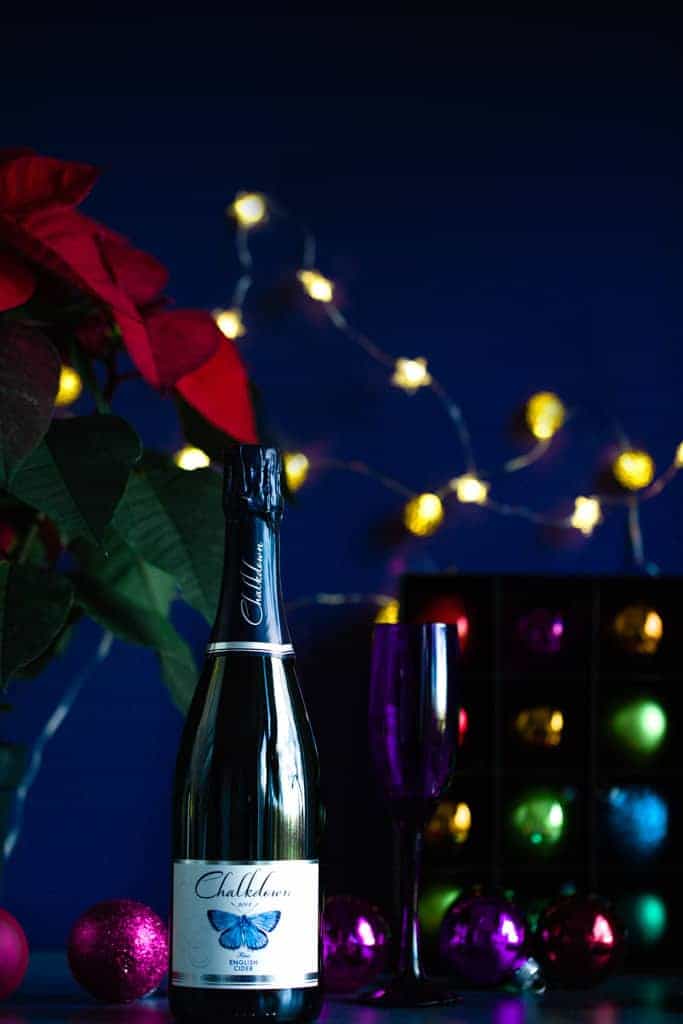 Last but by no means least is this spectacular sparkling cider from Chalkdown. Crafted from specially selected apples grown in the South Downs, this cider is made applying the same traditional methods used to produce Champagne and sparkling wine.
I'm from the West Country so it's a given that I have a penchant for cider, and this one doesn't disappoint. It has a delicate green apple flavour, notes of honey and a long-lasting sparkle. It's quite a 'grown-up' cider in the sense that it's really quite graceful and light on the palette so you can tell it's premium.
I think I'll buy another bottle to pop on the Christmas dinner table as the one I was sent is long gone. It will make a perfect alternative to Champagne or Prosecco and if there's any left over I'll add a dash of British Cassis and turn it into a cocktail.
I think Chalkdown Sparkling Cider is an absolute triumph!
Chalkdown Sparkling Cider is available at Fortnum & Mason, Waitrose, Berry Bros & Rudd, Laithwaite's, The Sunday Times Wine Club and a number of independent retailers - RRP: £12.95 a bottle.
I hope you enjoyed this bumper alcohol Christmas gift guide featuring all of my favourite tipples for 2018. If you're looking for the perfect gift to buy the foodie in your life then pop and have a read of my Christmas Gift Guide for Foodies. And for any last minute advent calendars (there's a couple of boozy ones!) have a look at my summary of the top 5 advent calendars.
Now go and eat, drink and be merry - 'tis the season to be jolly, after all! 
*Please remember to drink responsibly. 
**Disclosure: I was sent all the items in this gift guide in exchange for a feature on the blog.