Stollen is an enriched yeast-risen sweet bread usually eaten at Christmas time. This beautiful wreath version has plump cranberries, raisins, sultanas and candied peel. It's laced with golden marzipan and topped with pistachios, melted butter and icing sugar.
If you love the idea of freshly baked goods at Christmastime then do have a peep at my Cinnamon Rolls recipe!
It's very easy to turn a traditional stollen bread into a beautiful wreath. You won't need any special equipment - just the ingredients, a mixing bowl, rolling pin and your own two hands.
With this easy recipe, I'll show you step by step how to create the best homemade version of the beloved Christmas Stollen. You'll never want to buy one from the shops again!
What is Stollen?
Stollen is a fruit bread made from nuts, spices, and dried or candied fruit, and often marzipan. The outside of the bread is coated with melted butter and icing sugar which helps to keep the bread moist.
It is a traditional German bread eaten during the Christmas season when it is called Weihnachtsstollen after "Weihnachten", the German word for Christmas or Christstollen after Christ.

This type of sweet bread has become popular in the UK and is usually eaten at Christmas time, however, now you know how to make it yourself you can eat it at any time of year. It's wonderful paired with a nice cup of coffee!
History
Time for a history lesson - scroll to the bottom of the page if you just want the recipe!
Stollen originated in the Dresden area of Germany. The shape of the classic German Christmas cake is apparently meant to represent the swaddled baby Jesus.

Stollen can be traced back to the 1300s when it was probably made from just flour, oats and water. The limited ingredients were due to Advent when bakers weren't allowed to use butter, so the bread would have been hard and not very tasty.
Nowadays there is a festival called Stollenfest that takes place in Dresden. An enormous stollen of 4 tonnes is made and paraded through the streets on a carriage. The huge German Christmas pastry is then cut into pieces and distributed amongst the crowd.
How to make the dough
The recipe and method for making dough for an authentic German Stollen are very simple. You don't have to use a stand mixer as it can all be done by hand.
Begin by adding the flour, sugar, yeast, mixed spice and salt to a large mixing bowl. (Image 1)
Pour the milk into a glass jug and heat it in the microwave until it feels warm when you stick your finger in. You should be able to keep your finger in the milk without it scorching you. Use caution because if the milk is too hot it will kill the yeast.
Add the melted butter and egg to the jug containing the milk and whisk together until combined. (Image 2)
Pour the milk into the flour mixture and mix to form a sticky dough. (Image 3)
Lightly flour a work surface and turn the sticky dough out on to it. On turning out, the dough will turn from sticky to soft within a few seconds. Knead the dough until it is smooth and stretchy. This will take approximately 8-10 minutes. (Image 4)
Put the dough into a lightly oiled bowl and cover with oiled clingfilm. Leave it to rise in a warm place for 2 hours. It will puff up to twice its size.

It's important to oil the bowl and clingfilm otherwise your bread will get dry and might crack.
At this point, you can leave the dough for 24 hours in the fridge if you want to.
See below for how to roll out, fill, and shape the wreath.
How to shape a Stollen
The recipe I'm sharing here is pretty traditional in terms of the ingredients used, however, I've chosen to shape mine as a wreath. Some recipes describe this method as a babka wreath.

I love making different Christmas bread recipes and this is one of my favourites. When it's baking the entire house smells divine and very Christmassy. I think bread looks especially beautiful in a wreath shape and I like seeing the exposed fruit and marzipan.
Remember: If you don't fancy making a wreath, you can still use this recipe to make any shaped Stollen you would like.

If you'd like to learn how to shape a Stollen as a log you can watch this Youtube video for a step by step tutorial.
How to make it
Step One: Once your dough has had its first prove, remove it from the bowl and place it on a lightly floured surface. Use a rolling pin to roll it into a rectangular shape measuring approx. 50cm x 30cm.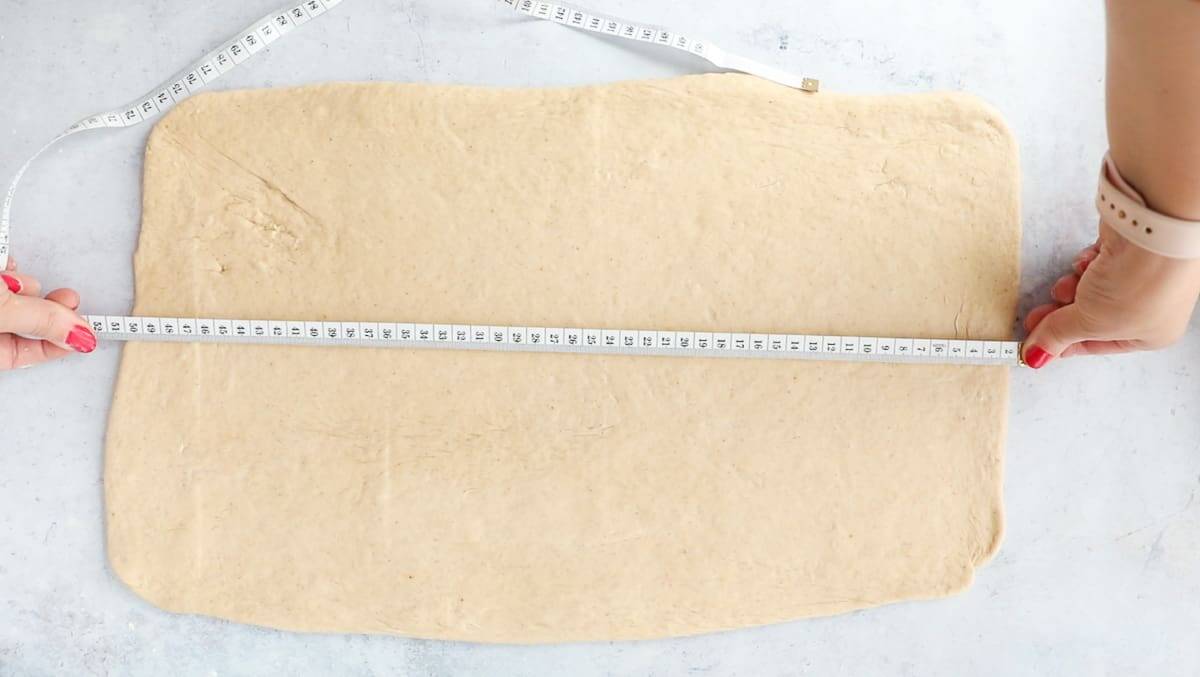 Step Two: Scatter over the grated marzipan, the soaked fruit and three-quarters of the pistachios. Use your hands to press the filling into the dough.
Step Three: With the longest edge facing you, roll up the dough into a sausage shape using the 'typewriter method'.
Step Four: Pinch the dough to seal the edge then cut the sausage dough in half leaving a section at the end uncut. Plait the two lengths of dough together in a criss-cross pattern.
Step Five: Join the ends together to form a circle, pressing down to form a seal. Cover with oiled clingfilm and leave to prove for 30 minutes before baking.
Watch the recipe video and use the step by step photographs to help you.
Recipe variations
To fill the Stollen bread I used cranberries and mixed dried fruit. I soaked the fruit in the juice of an orange. You can soak your fruit in some rum if you prefer.
You can omit the marzipan
Use sliced almonds, walnuts or hazelnuts instead of pistachios
Add candied orange and/or lemon
Use apples, apple sauce or apple jam as an alternative filling
Use a drizzle icing instead of the traditional melted butter and icing sugar
Questions and answers
How do you pronounce Stollen?
Stollen is pronounced "SHT" sound at the beginning, not a hard "ST" so it sounds like "SHT-OLEN" you can listen here.
What does Stollen mean in German?
The word Stollen comes from the word "post" or "stud".
What is Stollen cake?
People sometimes refer to Stollen as a cake but it is definitely bread.
What are Stollen bites?
Stollen bites are a mini version of a full-sized Stollen. If you'd like to make Stollen bites using this recipe you can tear off bite-sized pieces of dough and shape them into balls. After baking roll them in melted butter and icing sugar.
Does Stollen have to have marzipan?
You can make Stollen with or without marzipan depending on your preference. This recipe uses golden marzipan.
Can I use fresh yeast?
As a substitute for fast action yeast, you can use 21g dried yeast or 42g fresh yeast.
Can I use plain flour instead of strong white bread flour to make this recipe?
You can substitute the strong white bread flour for plain flour. Bear in mind, the stronger flour has a higher protein content and the extra gluten will yield a more elastic structure.
Does this recipe need a long overnight rise?
The dough used for this recipe will rise well after 1-2 hours. You can let it have its first rise for 24 hours in the fridge if you want to, although it is not necessary to have a long rise.
Can you toast Stollen?
Yes, you can toast or microwave individual slices of Stollen. This is sometimes a good idea if it's is older than 3 days and has gone a little stale.
How should I serve Stollen?
It can be sliced and spread with butter or jam. However, it is such a delicious sweet bread it can be eaten on its own without the need for any spread or toppings.
Why didn't my Stollen rise?
You might have used inactive yeast or your milk could have been too hot and killed the yeast.
Why is it dry?
It could have been overbaked. Don't be tempted to leave it in the oven for longer than the baking time stated.
How should Stollen be stored?
Wrap it tightly in tin foil or keep it in an airtight container.
How long will Stollen keep for?
The addition of melted butter and icing sugar helps to keep the Stollen moist for longer. Wrapped well in tin foil, Stollen will keep for at least 3 days if not longer.
Can I freeze Stollen?
Yes it freezes well for up to 3 months.
I'm pregnant, can I eat this?
The problematic ingredient in Stollen for pregnant women is marzipan, however, processed marzipan is fine to eat during pregnancy as long as it doesn't contain raw egg. Please thoroughly check the ingredients to ensure any shop-bought marzipan doesn't contain raw eggs.
Is this recipe suitable for vegetarians?
Stollen doesn't contain any meat products which makes it suitable for vegetarians.
Is this recipe vegan?
As Stollen contains butter, milk and eggs it is not suitable for a vegan diet.
I haven't got time to bake a homemade one, where can I buy Stollen?
I find the best places to buy authentic German Stollen is from the German supermarkets Aldi or Lidl. Tesco finest is quite nice too but homemade is definitely best!
More recipes I think you'll enjoy
Beautiful Stollen Wreath
Proving time:
2 hours
30 minutes
Total Time:
3 hours
45 minutes
This German Christmas cake has marzipan, cranberries, dried fruit and pistachios and is finished with melted butter and a dusting of icing sugar. The wreath shape of the Stollen makes it perfect for sharing with family and friends at Christmas time.
Ingredients
600g (3.75 cups) strong white bread flour
75g (0.25 cup + 2 tbsp) caster sugar
14 g fast-action dried yeast, (instant yeast)
2 tsp mixed spice
1 tsp salt
300ml (1.25 cups) milk, warmed
75g (0.25 cup) unsalted butter, melted
1 large egg
1 egg yolk
250g (1 cup) golden marzipan, grated
100g (0.50 cup) dried cranberries
100g (0.50 cup) mixed dried fruit
1 orange, zested and juiced
1 lemon, zested
75g (0.25 cup) pistachio nuts, roughly chopped
25g (1 tbsp) unsalted butter, melted
3-4 tbsp icing sugar, (powdered sugar)
Instructions
Put the flour, sugar, yeast, mixed spice and salt into a large bowl and mix to combine.
Heat the milk in a glass jug until it's warm. Add the melted butter, egg and egg yolk to the glass jug and whisk together.
Pour the milk mixture into the flour mixture and stir to form a sticky dough.
Lightly flour a surface and turn the dough out on to it. Knead for 8-10 minutes until the dough is smooth and stretchy. Alternatively, you can use a stand mixer fitted with the dough hook, mix on a low speed for 8 minutes.
Put the dough into a lightly oiled bowl and cover with oiled cling film. Leave to rise in a warm place for two hours or until the dough has doubled in size.
Meanwhile, add the cranberries, mixed fruit, lemon zest, orange zest and orange juice into a small saucepan. Heat for 5 minutes until the fruit is plump and juicy. Set aside to cool.
When the dough has risen, turn it out onto a lightly floured surface. Roll it into a rectangle measuring approximately 50cm x 30cm.
Scatter the grated marzipan over the dough followed by the soaked fruit and three-quarters of the pistachios. Gently press the filling into the dough using your hands.
With the longest side facing you, roll up the dough into a sausage shape. Pinch the seam to make a seal then cut the dough into two long pieces leaving one end intact.
Plait the dough in a criss-cross pattern then join the ends up, pinching together to form a circle. Slide the Stollen wreath onto a large baking tray lined with baking paper, cover it with oiled cling film and leave to rise in a warm place for 30 minutes.
Preheat the oven to 180ºC/160ºC Fan/Gas 4/350ºF
When the dough has had its second rise, bake it in the centre of the oven for 45 minutes or until it is uniformly golden in colour.
Remove from the oven and immediately brush with 25g melted butter, scatter over the remaining pistachios and generously sprinkle with icing sugar.
Notes
You can substitute strong white bread flour with plain flour
You can omit the extra egg yolk (extra yolk yields a softer bread)
Grated marzipan is better for even distribution. It's easier to grate cold marzipan so put it into the freezer while the dough is having its first prove. 
Use caution when heating the milk as milk that is too hot will kill the yeast.
If the hole in the centre of the Stollen wreath starts to close, put a clean tin can in the middle. 
Turn the Stollen halfway through baking time to ensure an even colour. 
Recipe inspired by BBC Good Food's Stollen Babka Wreath
Nutrition Information:
Yield:

20
Serving Size:

1 grams
Amount Per Serving:
Calories:

288
Total Fat:

3g
Saturated Fat:

1g
Trans Fat:

0g
Unsaturated Fat:

1g
Cholesterol:

22mg
Sodium:

135mg
Carbohydrates:

14g
Fiber:

1g
Sugar:

7g
Protein:

2g
Nutrition is an estimate only.