If you follow me on social media then you will know we were skiing in Val d'Isere last week. I took so many photographs of us all in our ski gear and I wanted to share with you what each of us wore while we were on the slopes. I'm starting with skiwear for toddlers and what I consider to be essentials to take with you on a ski holiday.
Before we left I did so much googling looking for a list of things to take. If, like us, you've never been on a ski holiday before it can all be a bit overwhelming and it feels a bit like you need masses of stuff to squeeze into your suitcases for a week! I can tell you that us adults didn't wear half of what we packed but I seem to have got it just right for Rose with a little bit of help from our friends at Muddy Puddles.*
Rose didn't actually do any skiing but she did spend plenty of time outdoors playing in the snow, tobogganing, building snowmen, and ice skating.
Rose was snug as a bug in her Snow Flurry Ski Jacket from Muddy Puddles. I chose the purple as it doubles up nicely as a ski jacket and a sensible coat to wear on chilly outdoor activities here in the UK. The coat is very warm and waterproof up to 5000mm. It has a removable hood with faux fur trim and the collar of the jacket is micro fleece which is especially nice for comfort. The jacket is windproof thanks to the taped seams and has wadding and fleece lining to keep your little one extra warm. There's also reflective logos which makes this jacket a really good option for a school coat.
Even though Rose didn't ski we did take her up the mountain in the cable car and was impressed to see there was a pocket in the jacket for her lift pass. She enjoyed being grown up enough to be in charge of her own pass and thought the cable car was the most exciting thing ever!
The Muddy Puddle Snowboots are amazing we've had a few pairs over the years and they never disappoint. Muddy Puddles know how to make an excellent quality boot and so comfortable; I didn't hear Rose complain about her feet once which was a relief as at times it was bitterly cold walking about in inches of snow. The snow boots are easy enough for a toddler to get on and off and fasten by themselves using the zip and velcro. The bottom half of the boot is rubber which makes them completely waterproof. The top section is softer, fleece lined and insulated for extra comfort and warmth.
As you can see Rose spent lots of time playing and lying in the snow. She never once complained of being cold and I didn't have to bring home any soggy damp socks in the suitcase, thanks to her snowboots keeping her little toes lovely and warm.
If you are going away on a ski holiday here's a list of what I recommend you take with you.
Toddler essentials for a ski holiday
1x waterproof ski jacket with hood
1x snow boots
1x waterproof salopettes or trousers
2x mid layer of fleece jumper
2x base layer of thermal leggings and long sleeve vest
Thermal socks for each day
2x hats
2x gloves
1x sunglasses or ski goggles
2x pairs of warm PJs
Suncream
Lipbalm
hire when you get there
Skis
Ski boots
Ski helmet
When Rose was in the indoor childcare club she wore a thick jersey dress and leggings and in the evenings her pyjamas and a fleece dressing gown. There's really no need for fancy dresses on a ski holiday, it's all about dressing sensibly for the weather!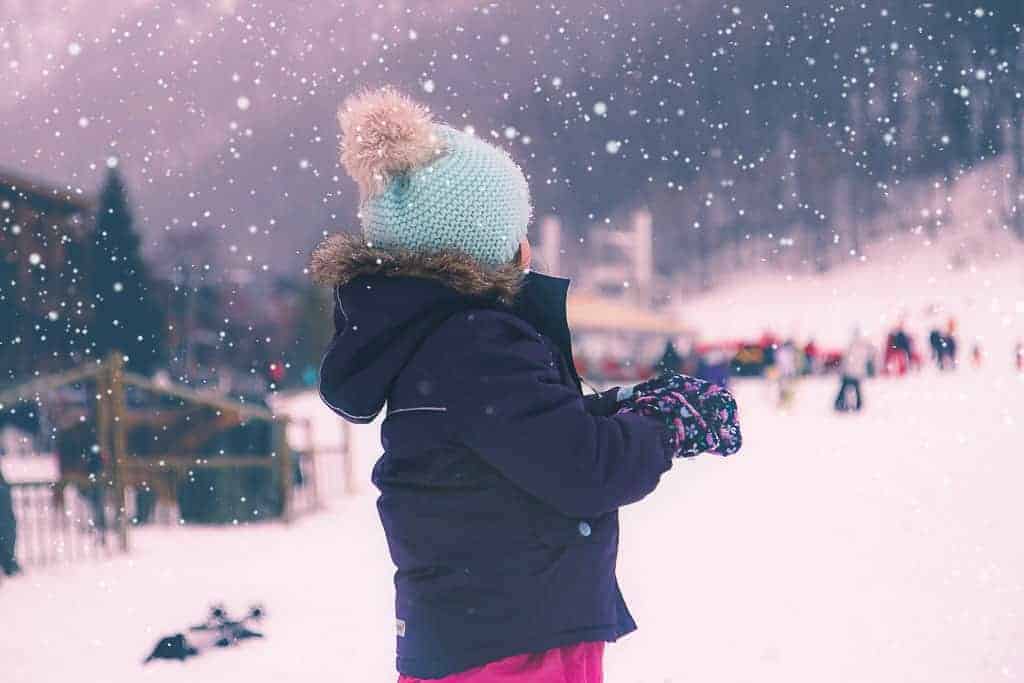 There is a huge sale over on Muddy Puddles right now, you can get the jacket Rose is wearing with a whopping 55% off and there are lots of other bargains too, I wouldn't hesitate to recommend Muddy Puddles for excellent quality outdoor gear.
Did I miss anything? Tell me you ski holiday essentials for toddlers in the comments.
Pin for later
*We received complimentary skiwear from Muddy Puddles in exchange for this review.