This delicious Date and Walnut Cake is so moist and packed full of flavour, the dates make it taste of toffee and it has crunchy walnuts in every mouthful. Top it off with a cream cheese icing, or enjoy it just as it is.
Some might call this recipe old-fashioned, it's definitely the type of cake your grandmother might have made, and sure to bring back memories of the smell of freshly baked fruit cake wafting from the kitchen.
The sticky date and crunchy walnut flavour combination is still hugely popular and you'll find this loaf cake served in coffee shops and National Trust cafes to this day, a proper classic to be enjoyed with a cuppa!
Regular readers will know I'm a huge fan of loaf cakes because the whole baking process is so easy. My favourite recipes include this wonderfully moist Courgette Cake and this Carrot Cake packed full of flavour is another lovely one to bake.
I wanted to add a nutty recipe to my loaf cake category because I know some people (like my husband) absolutely love nuts in cake.
I can't say I've been that bothered in the past, but the walnuts add such an amazing texture to this loaf it's hard to beat in terms of flavour. I'm a total convert to nuts in cakes now!
Cream Cheese Icing
There are lots of recipes for Date and Walnut Loaf on the internet but I couldn't find many with icing. You could absolutely bake the cake and be done with it.
It is wonderful just as it is, but if you fancy adding icing I highly recommend a cream cheese icing as opposed to buttercream. Cream cheese is not as sweet as buttercream and is the perfect partner to the date and walnut flavours.
For the cream cheese icing you will need:
Cream cheese: full fat and at room temperature.
Butter: unsalted and at room temerature.
Icing sugar: otherwise known as powdered sugar.
Vanilla extract: optional but it does give a good contrasting flavour to the dates and walnuts.
It's very easy to make and literally takes 5 minutes, especially if you dollop it on top of the cake and slather it over the top instead of using a piping bag!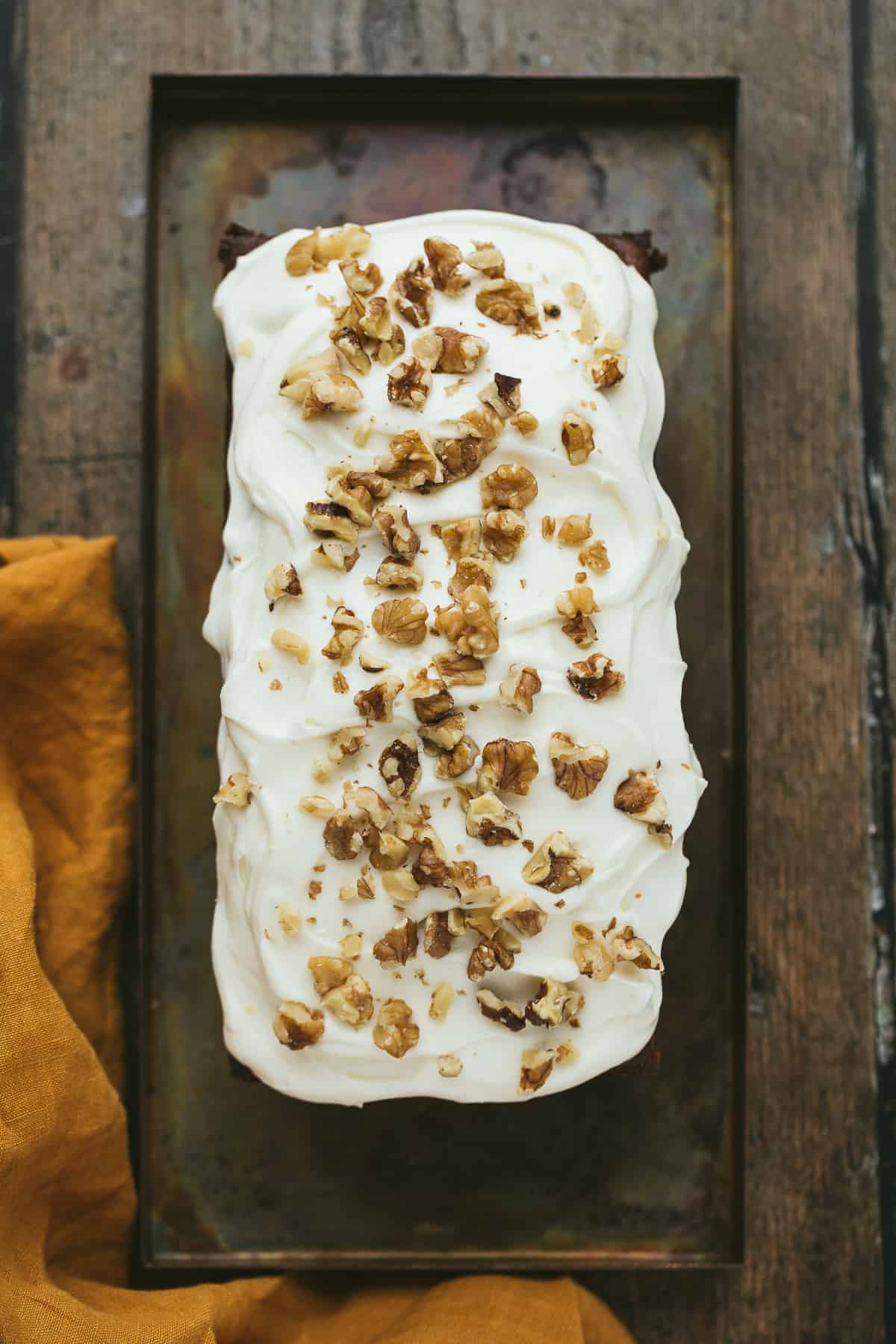 Ingredients
Dates: You can buy pitted dates (like Whitworths) or dates with the stones and remove them yourself. Personally, I buy a big box of dates with the stones because they are cheaper and it's easy to remove the stones by hand. I also find that dates with the stones in are nice and sticky. The pitted dates you buy in packets can be a bit dry. To remove the stones, I pull the dates apart with my fingers and pick them out.
Boiling water: the pitted dates are soaked in boiling water. This makes them soft and adds lots of moisture to the cake.
Instant coffee: my secret ingredient is a teaspoon of instant coffee granules. Just like with my Chocolate Sprinkle Cake the coffee works with all the other ingredients in the recipe and really enhances the overall flavour. You won't be able to taste any coffee in the finished cake.
Butter: melting the butter in the boiling water along with the dates really improves the overall finished texture of the cake and helps to keep it moist for days.
Walnuts: you can use whole walnuts, walnut halves or chopped walnuts for this recipe. If you buy them whole or in halves, chop them into smaller pieces before you add them to the cake mixture.
Plain flour: I've used plain flour for this recipe but if you only have self-raising that will work too. Just leave out the extra baking powder.
Caster sugar: only a very small amount of added sugar is needed because the natural sugar in the dates are what gives this cake most of its sweetness.
Baking powder and bicarb of soda: these added raising agents, along with the egg will give your loaf a beautiful rise.
Egg: use one large free range egg.
Milk: I almost always add milk to my cake recipes because it helps bring all the other ingredients together and also makes the overall cake texture lighter and softer. You can use whole milk or semi-skimmed.
Ingredients for Cream Cheese Icing: see heading above.
FAQS
Can this be made as a round cake?
This Date and Walnut cake can be easily adapted to a two or three-layer 20cm round cake. You will need to add a third of the ingredients on. To do this, divide the weights of each ingredient by two then multiply by three.
Do I have to add the coffee?
No, the recipe will still work without the coffee but I highly recommend using this secret ingredient because it does something incredible to the overall flavour.
Is the date and walnut cake still nice without icing?
Yes! The cream cheese icing is completely optional. I know some people enjoy this cake without any icing and it is an amazing cake on its own.
Can I leave out the walnuts?
Yes, you can leave them out or swap them with other nuts. Brazil nuts also work well with this recipe.
Can this recipe be made vegan?
Absolutely! You can use plant-based butter and substitute the cow's milk for something like almond milk. For vegan cream cheese icing, use vegan butter along with vegan cream cheese.
What size loaf tin do I need?
You will need a 2lb loaf tin. If you only have a 1 lb tin you can halve the ingredients and reduce the baking time by 20-30 minutes.
How long does the Date and Walnut Cake take to bake?
In my fan assisted oven, this cake takes exactly 1 hour and 5 minutes to bake. If you are using a conventional oven it could take up to 1 hour and 15 minutes. If the cake is becoming too brown, cover it loosely with foil.
I hope you love this Date and Walnut cake as much as we did. I usually give the cakes I bake away but I kept this one. That says it all really!
Please leave me a star rating if you make this and let me know what you think in the comments below.
More Loaf Cake Recipes
The Most Amazing Date and Walnut Cake
Yield:
10 generous slices
Cook Time:
1 hour
15 minutes
Total Time:
1 hour
45 minutes
This delicious Date and Walnut Loaf Cake is so moist and packed full of flavour, the dates make it taste of toffee and it has delicious crunchy walnuts in every mouthful. Top it off with a cream cheese icing, or enjoy it just as it is.
Ingredients
For the date and walnut cake
250g (2 cups) dates, stones removed and roughly chopped
1 tsp instant coffee
100g (0.25 cup) unsalted butter
150ml (0.5 cup) boiling water
100g (0.75 cup) walnuts, chopped into small pieces
225g (1.25 cups) plain flour
40g (3 tbsp) caster sugar
1 tsp baking powder
1 tsp bicarbonate of soda
1 large egg
150ml (0.5 cup) milk, whole or semi-skimmed
For the cream cheese icing
100g (0.25 cup) full fat cream cheese
50g (3 tbsp) unsalted butter
225g (1.5 cups) icing sugar (powdered sugar)
Instructions
Preheat the oven to 180ºC/160ºC Fan/Gas 4/350ºF Line a 2lb loaf tin with baking paper.
Roughly chop the dates then add them to a bowl along with the butter, instant coffee and boiling water. Set aside for 30 minutes.
Add the flour, caster sugar, baking powder and bicarbonate of soda to a bowl. Whisk it together with a fork.
Add the milk and egg to a jug or bowl and beat together.
In a large mixing bowl, add the flour mixture then pour in the milk mixture and beat together. Next, pour in the soaked date mixture (including all of the soaking liquid) and beat together very well until fully combined. You can do this with a handheld whisk or an electric whisk.
Tip the chopped walnuts into the bowl and fold them in by hand.
Transfer the cake mixture into the prepared 2lb loaf tin. Bake in the centre of the preheated oven for 1 hour and 5 minutes to 1 hour and 15 minutes. (see notes) Once baked, leave to cool in the tin before adding the cream cheese icing.
To make the cream cheese frosting: Add the butter and cream cheese to the bowl of a freestanding electric mixer fitted with the paddle attachment (or use a handheld electric whisk) beat for 2-3 minutes until smooth and creamy. Don't worry if there are still some lumps of butter.
Swap the paddle attachment for the balloon whisk. Add the salt, vanilla and ⅓ of the icing sugar. Whisk on a low speed until the icing sugar has been incorporated then add another ⅓ of icing sugar and repeat. When all the icing sugar has been added, turn the speed up to high and whisk for 2-3 minutes.
When the date and walnut cake has completely cooled, spoon the cream cheese frosting on top of it and use an offset palette knife or similar to smooth it over the top. For decoration, add a sprinkling of chopped walnuts.
Notes
Watch the step by step recipe video for a visual!
This cake took 1 hour and 5 minutes in my fan oven. It may take up to 1 hour and 15 minutes in a conventional oven. If it's looking too brown towards the end of the baking time, cover it loosely with tin foil. To test for doneness, a skewer inserted into the centre of the cake should come out clean. The cake will be a deep brown colour.
Leave the cake to completely cool in the tin before turning out and icing.
Store in an airtight container in a cool day place. The Date and Walnut cake will improve in flavour over the next day or two - if you can hold out that long! It will stay fresh for at least 5 days and can be frozen for up to 3 months.
Nutrition Information:
Yield:

10
Serving Size:

1
Amount Per Serving:
Calories:

350
Total Fat:

4g
Saturated Fat:

2g
Trans Fat:

0g
Unsaturated Fat:

1g
Cholesterol:

28mg
Sodium:

84mg
Carbohydrates:

11g
Fiber:

0g
Sugar:

1g
Protein:

2g
Nutrition is an estimate only.