This Red Velvet Loaf Cake has a deeply complex cocoa flavour with a light tang and vanilla undertone. With this easy recipe, you'll achieve a perfectly dense yet moist cake topped with a silky smooth cream cheese frosting.
It is, simply exquisite. There's frankly no other way to describe this irresistible loaf cake. One mouthful and you'll be in heaven.
Amy's tip: Check out my Red Velvet Cheesecake, it's one of my favourite cheesecakes of all time.
It's difficult to describe the red velvet flavour to someone that's never tasted it before. That's the funny thing about this cake, there's something about the taste that you can't quite put your finger on. But I'll do my best!
There's a reason it has the word "velvet" in its name, the texture is unlike any ordinary cake.
Velvety smooth and dense with a soft moist crumb. Oh, and once it's been smothered in cream cheese frosting - well, it's to die for.
The best part? Despite its relatively unusual ingredients, this Red Velvet loaf is actually pretty easy to make. All you'll need to do is sit back and let those compliments roll in.
I know I shouldn't have favourites (a bit like kids haha) - I love all my recipes because I spend so much time developing them. Having said that this is probably the best loaf cake, no scratch that, BEST CAKE full stop I've ever made. Believe me I've made a lot of cakes in my time, so this one must be special!
Red Velvet Loaf Cake plus cream cheese frosting is such a dreamy combo.
The colour, texture and flavour is spot on and I hope you love it as much as I do.
The key ingredients
You can't make a red velvet cake without some special ingredients. This is not your run of the mill all-in-one type of sponge.
The recipe uses white wine vinegar and bicarbonate of soda as well as the following:
Natural Cocoa Powder: unsweetened, natural cocoa is best for red velvet because it has a higher acidity level and it works with the baking soda and buttermilk to leaven the cake.
Buttermilk: adds a wonderful tang and you wouldn't be able to achieve the classic red velvet taste without it. The acidity of the buttermilk ensures a tender crumb that gives that tell-tale melt in the mouth velvety texture.
What is the best food colouring?
Of course, Red Velvet Cake wouldn't be red without the food colouring. It's not just the colouring that gives Red Velvet its legendary tint but also the cocoa powder. Historically, a chemical reaction between the cocoa, buttermilk and bicarbonate of soda would have given the cake a red tinge.
Nowadays we've turned the red velvet cake into the dramatic red colour we see today. The effect is achieved by using strong food colouring.
I've seen some people showing pictures of their Red Velvet Loaf Cakes on social media, dubbing them "brown Velvet". The reason Red Velvet doesn't always turn out the anticipated colour is down to which food colouring has been used.
You will not achieve the dramatic red colour with regular food dye eg. the small bottles you buy in the supermarket.
You must use red food colouring gel. For this red velvet loaf cake, I used (affiliate link) Sugarflair Gel in the shade "Red Extra". This is a highly concentrated colour and you'll only need a small amount. It'll colour your loaf cake a vibrant red but most importantly you won't be able to taste it.
How to make it
To mix the ingredients, you can use a freestanding electric mixer fitted with the paddle attachement or a handheld electric whisk.
Cream the butter and sugar together until very light and fluffy.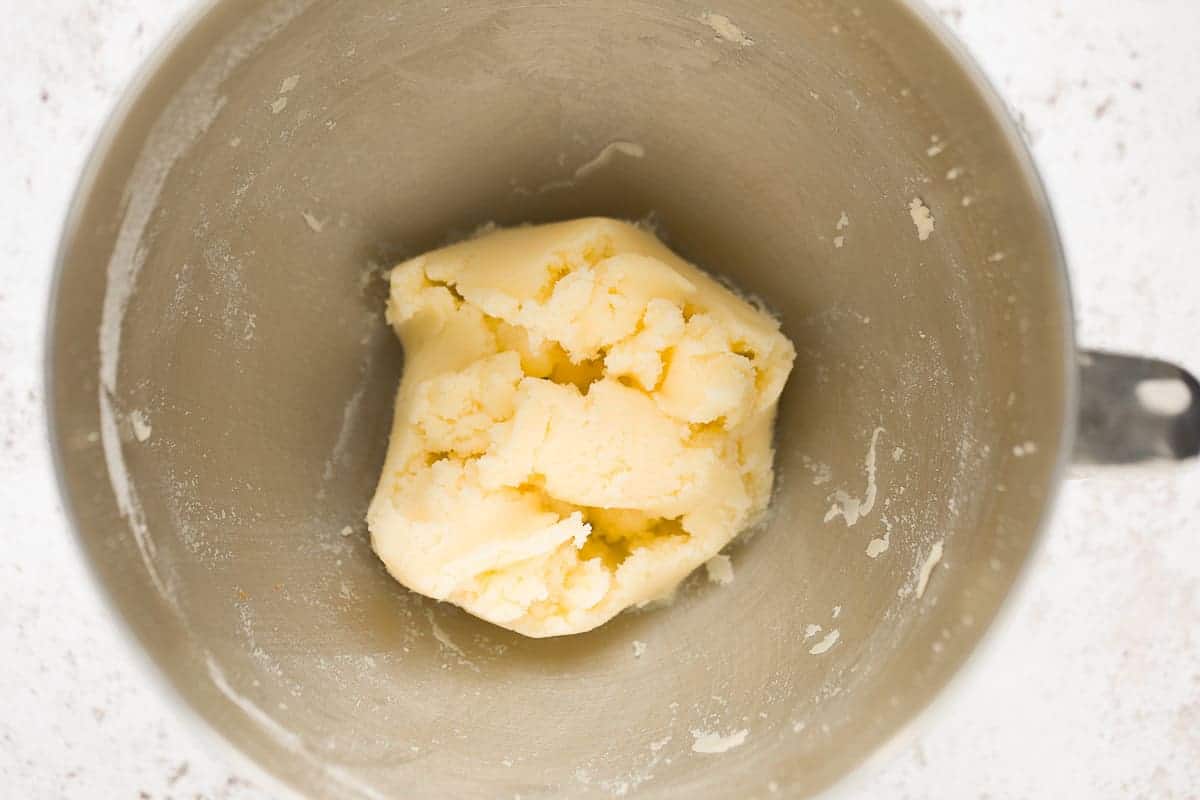 Add the eggs one at a time and beat until all the ingredients are well incorporated.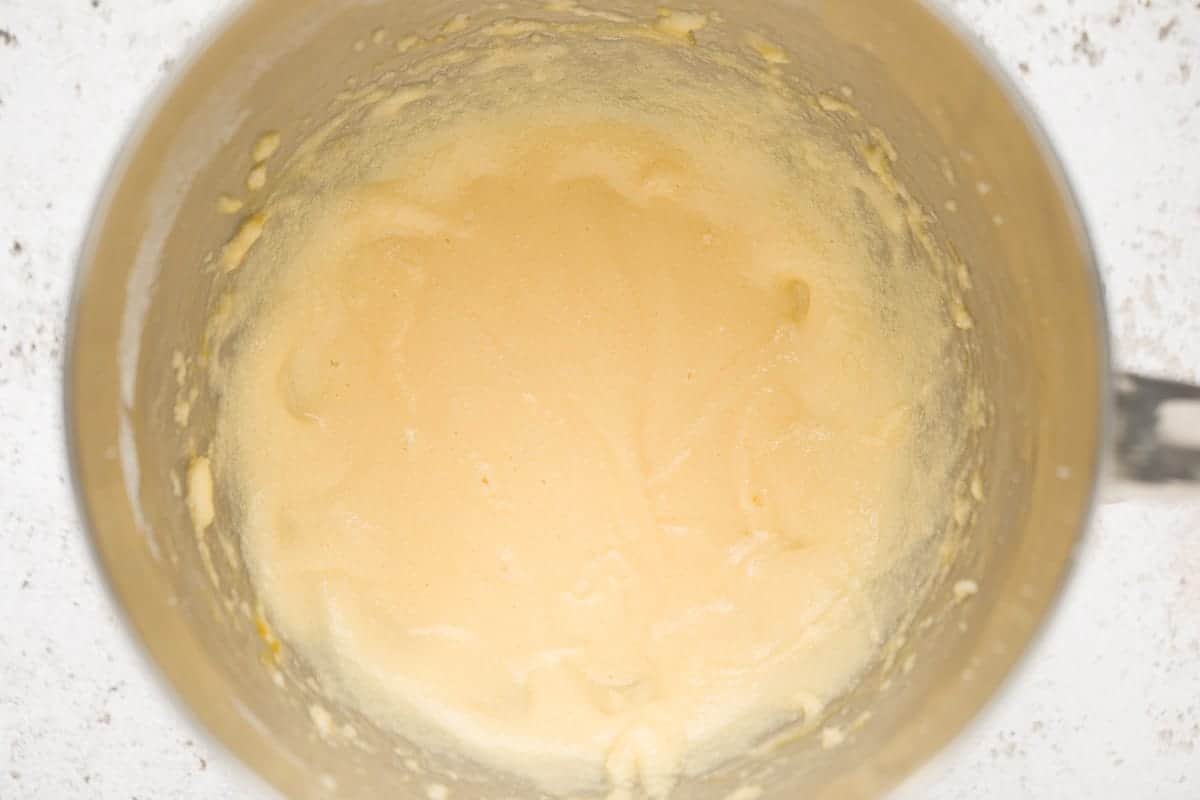 Amy's tip: My number one tip for getting an even colour throughout the loaf cake is to make a paste with the food colouring.
Add the cocoa powder, red food gel, water and vanilla to a small bowl and mix well until it looks like bright red toothpaste.
Add the red paste to the butter and eggs mixture and beat well until it's all an even colour. You will need to scrape the bowl down a couple of times between mixing. Next, add the buttermilk and mix well.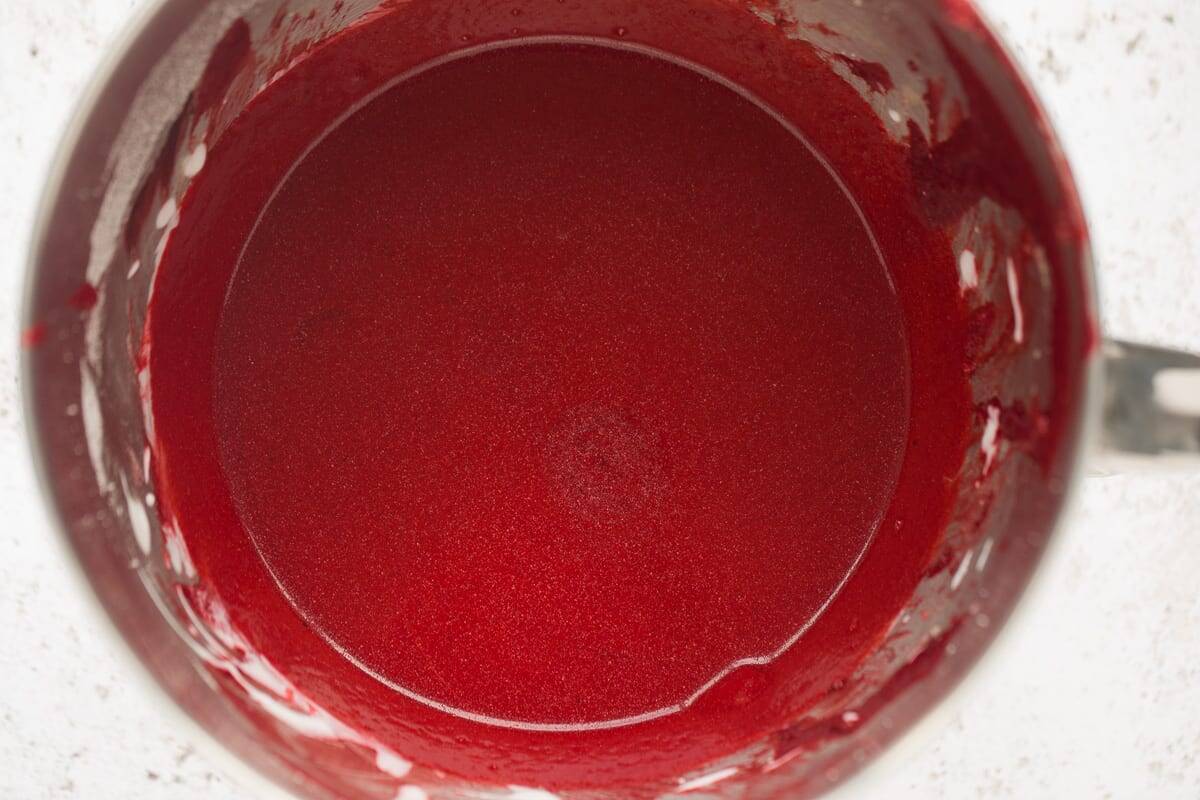 Turn the speed down to low and add the flour, a little at a time. Stop mixing when you can no longer see white steaks of flour.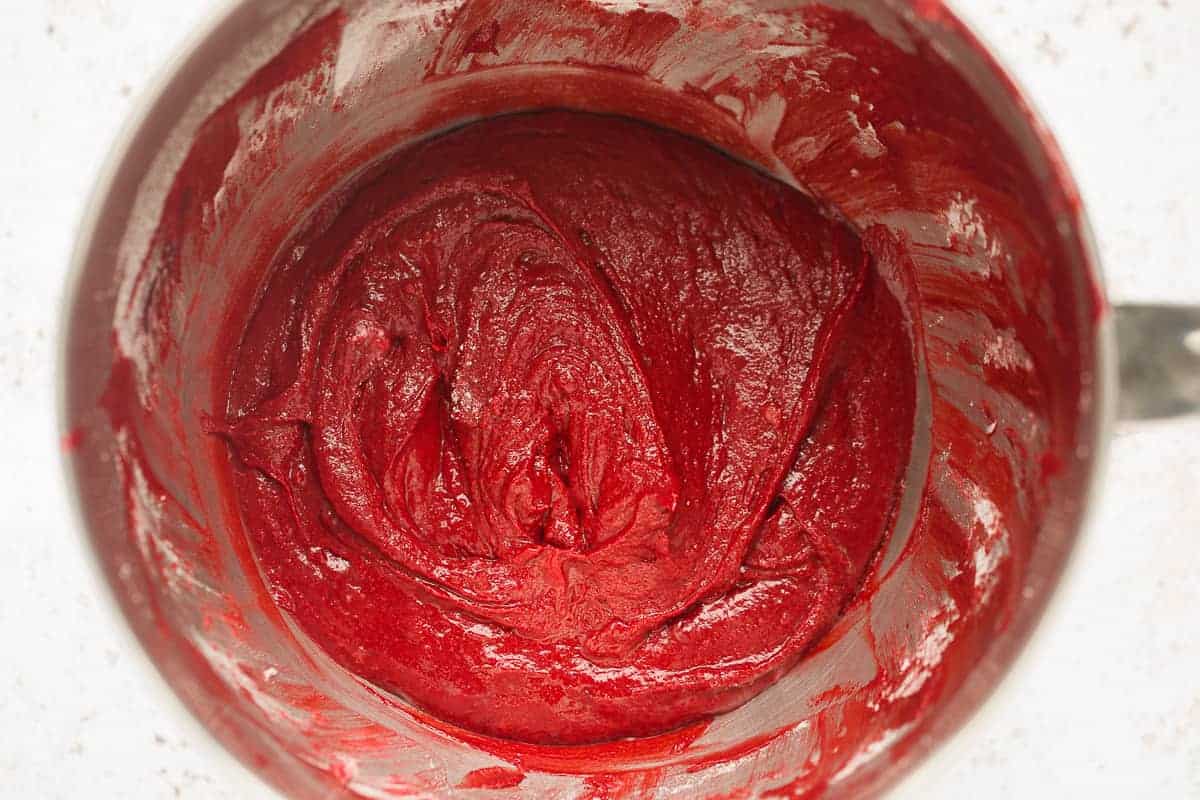 Add the bicarbonate of soda and white wine vinegar. Beat on a low speed until mixed in, then turn the speed up to medium and beat for two minutes.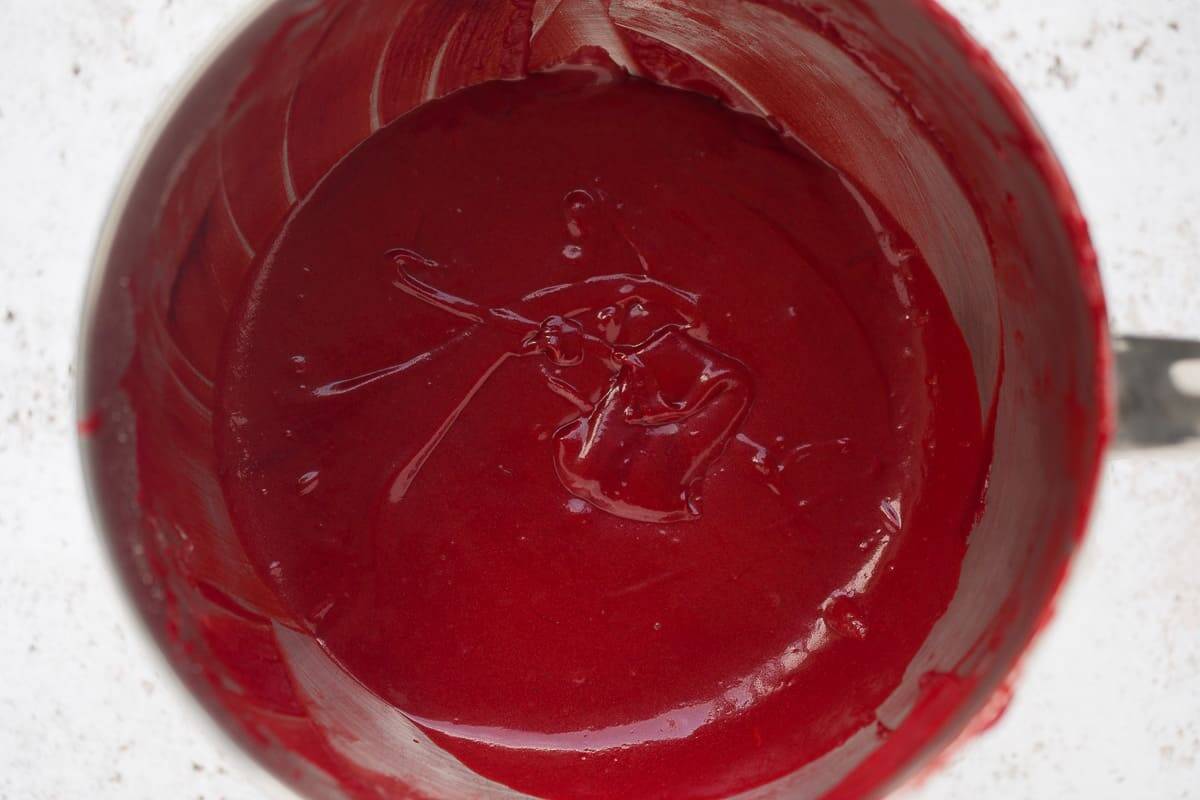 Pour the cake batter into a 2lb loaf tin and bake in the centre of a preheated oven.
Cream cheese frosting
A good cream cheese frosting should contain about double the amount of icing sugar to cream cheese.
Using a larger amount of cream cheese results in a runny soupy mess, so make sure you use the quantities as listed in the recipe.
Amy's tip: You might notice that there are still lumps of butter when you mix the butter and cream cheese together. This is normal and those lumps will disappear as you add the icing sugar, so don't panic!
Decorating
The Red Velvet Loaf cake will not be completely level once it's baked. All you need to do is trim the top off which will give you a good base for the cream cheese frosting.
The bits you trim off can be turned into crumbs to decorate your cake with!
As for decorating, I prefer to slather on the frosting with an offset palette knife. You can add the cream cheese frosting to a piping bag and use a fancy nozzle if you want to.
I hope you enjoy this Red Velvet Loaf Cake as much as I did. I loved developing this recipe and I can't wait for you to try it!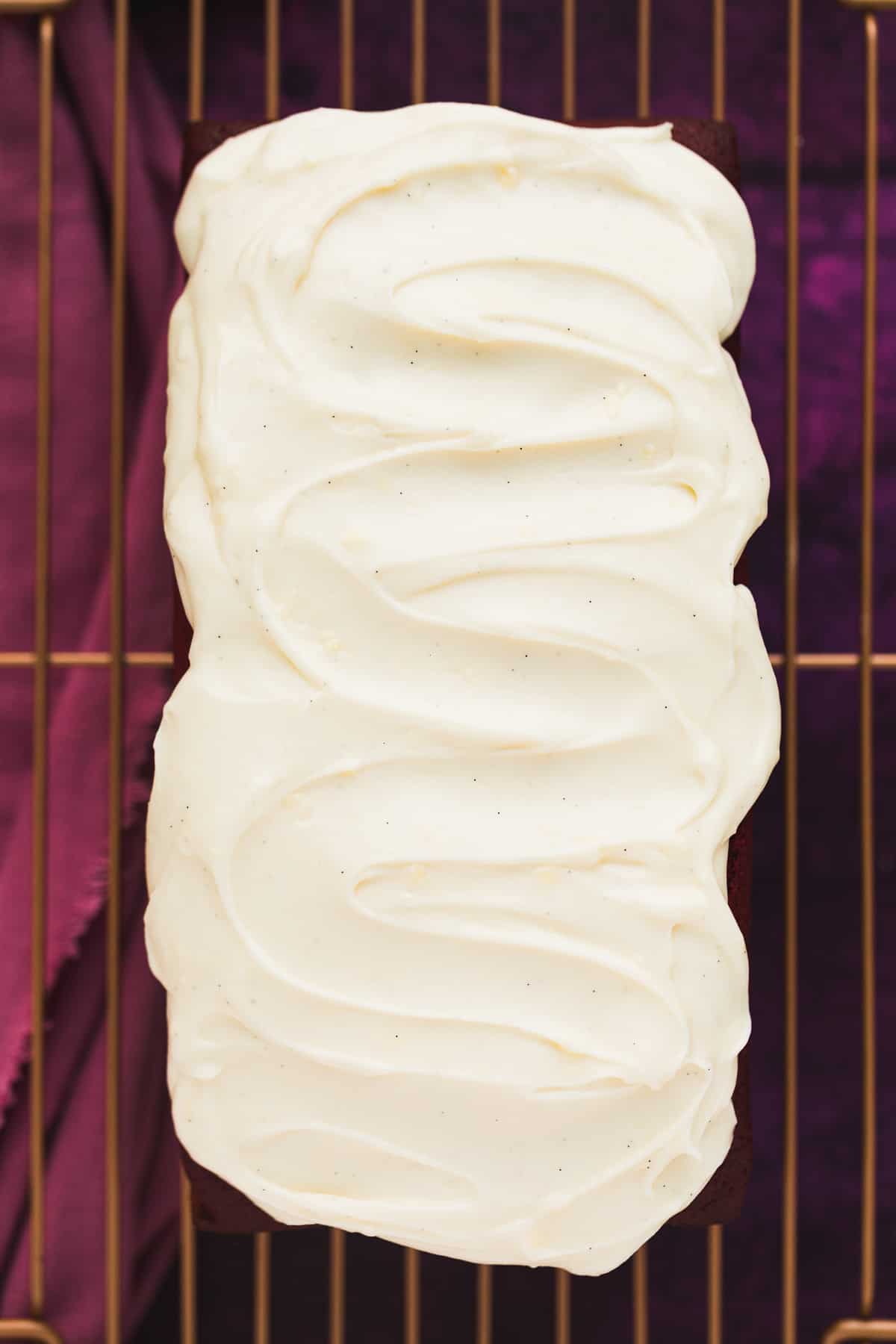 More loaf cake recipes
The Best Red Velvet Loaf Cake
Total Time:
1 hour
15 minutes
Red Velvet Loaf cake is impossible to resist! This is an easy recipe that combines the smooth red velvet flavour and texture with a silky cream cheese frosting.
Ingredients
For the Red Velvet Loaf Cake
80g (¼ cup + 2tbsp) unsalted butter, at room temperature
200g (1 cup) caster sugar
2 medium eggs
20g (3 tbsp) natural cocoa powder
1 heaped tsp red food colouring gel, see notes
3 tbsp water
1 tsp vanilla bean paste , or vanilla extract
160ml (½ cup + 3tbsp) buttermilk
200g (1 + ¼ cups) plain flour
½ tsp salt
½ tsp bicarbonate of soda
2 tsps white wine vinegar
For the cream cheese frosting
100g (¼ cup + 3bsp) full-fat cream cheese, I use Philadelphia
50g (3 tbsp) unsalted butter, at room temperature
pinch of salt
1 tsp vanilla bean paste, or vanilla extract
225g (1 + ½ cups) icing sugar, (powdered sugar)
Instructions
Preheat the oven to 180ºC/160ºC Fan/Gas 4/350ºF Line a 2lb loaf tin with baking paper.
Put the butter and sugar into the bowl of a freestanding electric mixer fitted with the paddle attachment (or use a handheld electric whisk) beat until pale, light and creamy.
Add the eggs one at a time, beating well after each addition.
In a separate bowl add the cocoa powder, red food gel, water and vanilla. Stir together until it looks like dark red toothpaste.
Add the red paste to the butter and egg mixture and beat until the ingredients are uniform in colour.
Add the buttermilk and mix on a medium speed until incorporated.
Turn the mixer speed down to slow and gradually add the flour. Stop mixing when you can no longer see white streaks of flour.
Scrape the bowl down well then add the salt, bicarbonate of soda and white wine vinegar. Mix on a slow speed until combined then turn the mixer up to medium speed and beat the ingredients for two minutes.
Transfer the cake batter into the prepared loaf tin. Bake in the centre of the preheated oven for 45 minutes or until a skewer inserted into the middle of the cake comes out clean.
Remove from the oven and allow the cake to cool in the tin for 10 minutes then turn it out onto a wire cooling rack. The loaf cake will have domed in the middle slightly. Use a serrated knife to trim the top of the cake so it's level. Use the trimmings as crumbs to decorate with later on.
To make the cream cheese frosting
Add the butter and cream cheese to the bowl of a freestanding electric mixer fitted with the paddle attachment (or use a handheld electric whisk) beat for 2-3 minutes until smooth and creamy. Don't worry if there are still some lumps of butter.
Swap the paddle attachment for the balloon whisk. Add the salt, vanilla and ⅓ of the icing sugar. Whisk on a low speed until the icing sugar has incorporated, adding another ⅓ of icing sugar and repeat. When all the icing sugar has been added, turn the speed up to high and whisk for 2-3 minutes.
When the loaf cake has completely cooled, spoon the cream cheese frosting on top of it and use an offset palette knife or similar to smooth it over the top. For decoration, sprinkle over the red crumbs you reserved earlier.
Notes
Red food colouring
To colour the cake, please do not use liquid red food colouring or you will not achieve the desired outcome. You need to use a red food gel. I recommend Sugarflair "RED EXTRA". 
Cream cheese frosting
The consistency should be smooth, creamy and spreadable. It should not be runny or it will slide off the top of the cake. You are aiming for the consistency of easily spreadable butter. If you need to thicken the frosting you can add icing sugar 25g at a time. If it's too thick add a splash of milk or cream. 
Storage
Store in the fridge in an airtight container or wrapped well. Bring to room temperature before eating. 
Nutrition Information:
Yield:

8
Serving Size:

1 grams
Amount Per Serving:
Calories:

494
Total Fat:

20g
Saturated Fat:

12g
Trans Fat:

1g
Unsaturated Fat:

0g
Cholesterol:

100mg
Sodium:

281mg
Carbohydrates:

76g
Fiber:

2g
Sugar:

55g
Protein:

5g