A sublimely moist and fudgy chocolate loaf cake that takes moments to prepare in one bowl. Perfect for afternoon tea, a special occasion or even for breakfast!
This is a very quick and easy recipe, ready in an hour, that produces a rich cake that's full of flavour. There's no need to add frosting or icing, the chocolate cake is perfect, just as it is.
Most often, a cake recipe will use butter as its fat source. The fat in a cake is what makes it tastes so good. You'll notice that this cake has no butter. Instead, I've used a combination of sunflower oil and sour cream.
Amy's tip: My Chocolate Sprinkle Cake is made using the same method as my Chocolate Chip Loaf Cake. Watch the recipe video for a step by step.
The oil and sour cream make this chocolate loaf cake supremely moist. It's fudgy, rich and extremely decadent. The sort of cake that sticks to the roof of your mouth and the back of your teeth.
In other words, the most delicious chocolate cake you've ever tasted.
I've experimented A LOT to make what I believe is the very best tasting loaf cake.
And this recipe is a clear winner.
It's loosely based on my Chocolate Sprinkle Traybake. However, I played around a lot with the ingredient ratios until I got it perfect.

I think you're going to love it.
I toyed with the idea of adding some sort of frosting or dark chocolate ganache but it's honestly not needed.
The cake is very fudgy in texture, it's amazing on its own but if you want to take it to another level of deliciousness - serve it with a scoop of ice cream!
My best piece of advice is to add a very generous handful of dark chocolate chips as soon as the cake comes out of the oven.
Most of the chocolate chips will melt, leaving a delicious dark, chocolate trail on each slice, which makes every mouthful even more amazing.
Although my recipe uses simple ingredients, this is not your standard basic chocolate cake.
A lot of recipes will call for equal amounts of butter, sugar, flour and eggs with a portion of the flour being replaced with cocoa powder. Basically, a chocolate flavoured sponge.
BORING!
The above combination will give you a chocolate cake, but it will be lacklustre and unmemorable.
If you're looking for an extra special chocolate loaf cake with a complex flavour and to die for texture. This is the recipe for you.
Secret ingredients
This loaf cake is made with cheap easy to find ingredients. I've used plain flour because the combination of baking powder, bicarbonate of soda and the acid from the soured cream make it rise perfectly.
The following ingredients are my secret to making the best loaf cake ever!
Soured cream - thanks to its high-fat content the sour cream adds an unrivalled moistness and richness.
Sunflower oil - this mildly flavoured oil is essential because it adds extra moistness. Think carrot cake texture with a wonderfully rich chocolate flavour.
Cocoa powder - Dutch-processed cocoa powder gives an intense and smooth chocolate flavour.
Freshly brewed coffee - if you've never tried coffee in a chocolate cake before you've been missing out. Although you can't taste the coffee it does something magical and hugely intensifies the chocolatey-ness.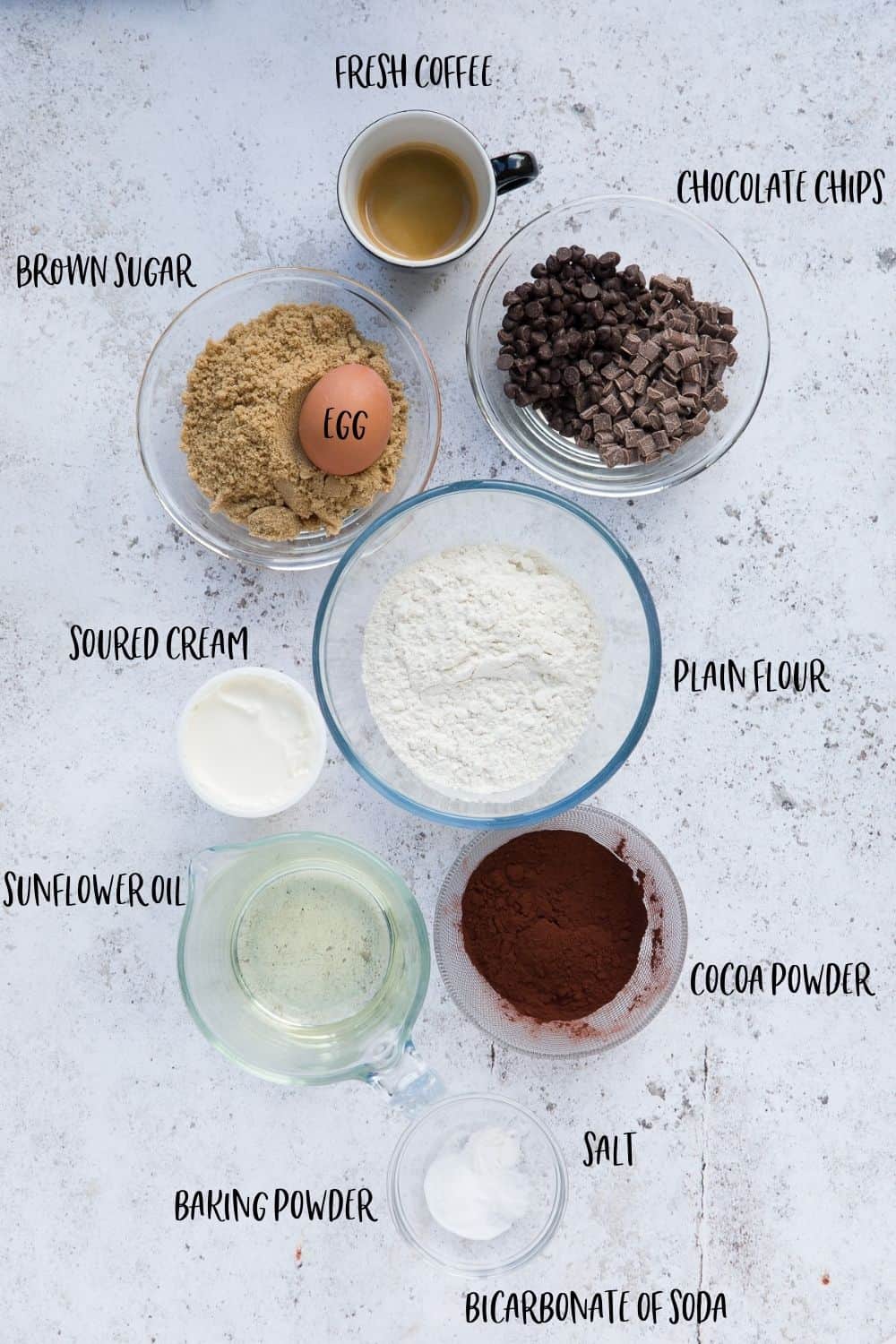 SUBSTITUTIONS
You can substitute the sour cream for the same amount of buttermilk and expect similar results.
You can use any flavourless oil such as sunflower oil or vegetable oil. However, olive oil should be avoided because it is too strong in flavour.
I made a double shot of espresso coffee in my coffee machine and mixed it with water. You can use espresso powder or instant coffee. If you'd prefer not to use coffee at all, you can simply use hot water instead.
Best loaf tin
I used a 2lb loaf tin that measures 21.5cm x 11cm. You can use any 2lb loaf tin but be mindful that they can vary in size.
As long as you only fill the tin two-thirds full you won't have any problems with the cake overflowing.
How to make it
Jump to the recipe card at the bottom of the page for the full ingredients list and method.
Making the cake it is very quick and easy. If you need a visual watch the recipe video above for Chocolate Sprinkle Cake as the method for making this Chocolate Chip Loaf Cake is the same.
Simply sieve all the dry ingredients (except the sugar) into a large bowl. Add the sugar then mix with a handheld whisk and make a well in the centre.
Add the wet ingredients to the dry ingredients and beat until fully combined. This will take a minute or two with an electric whisk or stand mixer. Mixing by hand will take slightly longer, but it's not a chore to mix by hand.
Lastly, tip in the chocolate chips and stir them through. Pour the mixture into a lined 2lb loaf tin and bake in the centre of a pre-heated oven.
Amy's tip: the cake mixture is VERY runny. Please don't be alarmed, it is meant to be!
Storage
Just like banana bread, this loaf can be stored in a cool dry place like a kitchen cupboard. Wrap it in clingfilm and it will stay fresh for at least 3-4 days. However, cake is always best eaten fresh on the day it's baked.

It's also suitable for freezing for up to 3 months. I suggest you cut it into slices and individually wrap each piece before you put it in the freezer.

Allow to fully defrost and come to room temperature before eating.
I hope you love this sublimely moist and rich chocolate loaf cake. Please leave me a rating in the recipe card below and a comment if you make it!
More loaf cake recipes you'll love
Loaf cake recipes
A selection of Amy's favourite loaf cakes.
Chocolate Loaf Cake
A sublimely moist and fudgy chocolate loaf cake that takes moments to prepare in one bowl.
This is a very quick and easy recipe that produces a rich cake that's full of flavour. There's no need to add frosting or icing, the chocolate cake is perfect, just as it is.
Ingredients
165g (1 cup) plain flour
45g (¼ cup) cocoa powder
½ tsp baking powder
1 tsp bicarbonate of soda
¼ tsp salt
215g (1 cup) light brown soft sugar
1 large egg
65ml (¼ cup) sunflower oil
150ml (½ cup) soured cream
150ml (½ cup) freshly brewed coffee
100g dark chocolate chips (to put in the cake mixture)
75g dark chocolate chips (topping once the cake is baked)
Instructions
Preheat the oven to 180ºC/160ºC Fan/Gas 4/350ºF Line a 2lb loaf tin with parchment paper.
In a large bowl, sieve the flour, cocoa powder, baking powder, bicarbonate of soda and salt. Add the brown sugar and mix with a handheld whisk until all ingredients are fully combined and uniform in colour. Make a well in the centre.
Add the egg, sunflower oil, soured cream and freshly brewed coffee to the well. Beat for 1-2 minutes with a handheld electric whisk or with the balloon whisk fitted to a stand mixer. You can easily mix this by hand but it will take a little longer.
When the cake batter is completely combined, tip in the chocolate chips (100g) and stir through to distribute them evenly.
Pour the cake batter into the prepared lined 2lb loaf tin. The mixture will be very runny and this is normal.
Bake in the centre of the preheated oven for 45 minutes or until the cake has risen slightly above the top of the cake tin and feels springy to the touch. Remove from the oven and immediately scatter the chocolate chips (75g) on top. Leave to cool in the tin for 15-20 minutes then turn out on to a wire rack to completely cool.
Notes
Use the the best cocoa powder you can afford. I like Dutch processed cocoa powder.
You can substitute sunflower oil for any mild oil such as vegetable oil or canola oil.
If you can't make fresh coffee you can use espresso powder or a good instant coffee. You can also use just hot water if you wish although I do recommend using coffee if you can.
Use milk chocolate chips if you prefer.
Make sure to only fill your loaf tin two-thirds full.
The mixture will look very runny, this is normal!
Don't attempt to slice the cake until it has cooled.
Storage: wrap with clingfilm and store at room temperature where the cake will stay fresh for 3-4 days. However, cake is always best eaten on the day it is baked!
Nutrition Information:
Yield:

10
Serving Size:

1
Amount Per Serving:
Calories:

173
Total Fat:

9g
Saturated Fat:

4g
Trans Fat:

0g
Unsaturated Fat:

4g
Cholesterol:

23mg
Sodium:

95mg
Carbohydrates:

21g
Fiber:

2g
Sugar:

9g
Protein:

3g
Nutrition is an estimate only.