Jammie Dodger Blondies made with white chocolate - chewy on the outside with an oozy and sticky centre. This recipe uses classic Jammie Dodger biscuits as a topping and mini Jammie Dodgers have been folded into the mixture taking the blondie to a new level of deliciousness!
I need to make a confession, I haven't always been the biggest fan of blondies, I usually opt for their stodgier chocolatey counterpart: The Brownie.
I found regular blondies to be a little on the bland side and too cake-like so I favoured the squidge appeal of a brownie. But once I started adding interesting flavours and my favourite childhood biscuits into my blondie mix I can see why everyone goes crazy for them.
Custard creams are excellent in a blondie mix as-is pieces of white chocolate Kinder Bueno but nothing compares to a good old Jammie Dodger (or several!)
Jammie Dodger Blondies are childhood nostalgia at its finest.
Here's why...
Blondies are excellent if you don't fancy a major chocolate hit
White chocolate blondie mixture plus Jammie Dodgers is a match made in heaven
They have the perfect chewy/sticky balance
This recipe uses cheap and easy to find ingredients
Quick to make in one bowl
WHAT YOU NEED TO MAKE JAMMIE DODGER BLONDIES
This recipe is pretty much my go-to brownie recipe except I swap the dark chocolate for white and alter the quantities slightly.
White Chocolate - most if not all blondie recipes will include white chocolate. Loads of recipe bloggers favour Callebaut chocolate and while it is an excellent choice for baking it's quite expensive. I used cheap white cooking chocolate from Tesco and I can promise you my blondies tasted amazing!
Unsalted Butter - I can't think of an occasion when I use salted butter in baking because it's too salty. We'll add a pinch of salt to enhance the flavour of the blondies but not overwhelm the bake.
Caster Sugar - I used caster sugar in this recipe so that the blondies would be paler in colour and because if brown sugar is used, the caramel flavour can overpower the Jammie Dodger biscuits. I've used quite a bit of white chocolate which helps makes the centres of the blondies gooey; if I was to use brown sugar the texture would be a bit too fudge-like for my taste.
Eggs - large free-range eggs are a must.
Vanilla Extract - use extract not essense!
Plain Flour - any plain flour or all-purpose flour will do, don't worry about sifting.
Jammie Dodger Biscuits - I folded mini Jammie Dodger biscuits through the blondie mixture and used a variety of mini and regular sized Jammie Dodgers for the topping.
JAMMIE DODGER BLONDIE VARIATIONS
Jammie Dodger Traybake/Tiffin - for a no-bake version, crush a couple of packets of Jammie Dodgers up and mix in melted white chocolate and butter. Leave to set in the fridge and top with melted white chocolate then cut into squares.
Jammie Dodger Blondies with Jam - follow the recipe below and swirl 6 tablespoons of raspberry or strawberry jam into the mixture before you add the Jammie Dodgers on top.
HOW TO MAKE JAMMIE DODGER BLONDIES
Melt the white chocolate and butter in a bowl that you have set over a pan of simmering water. Once melted leave the mixture to cool slightly then add the sugar stirring until well incorporated.
Beat in the eggs - they shouldn't scramble if you've left the white chocolate to cool.
Add the vanilla extract, flour and salt. Stir the mixture until you can no longer see streaks of flour.
Cut the mini Jammie Dodgers in half and gently fold them through the mixture.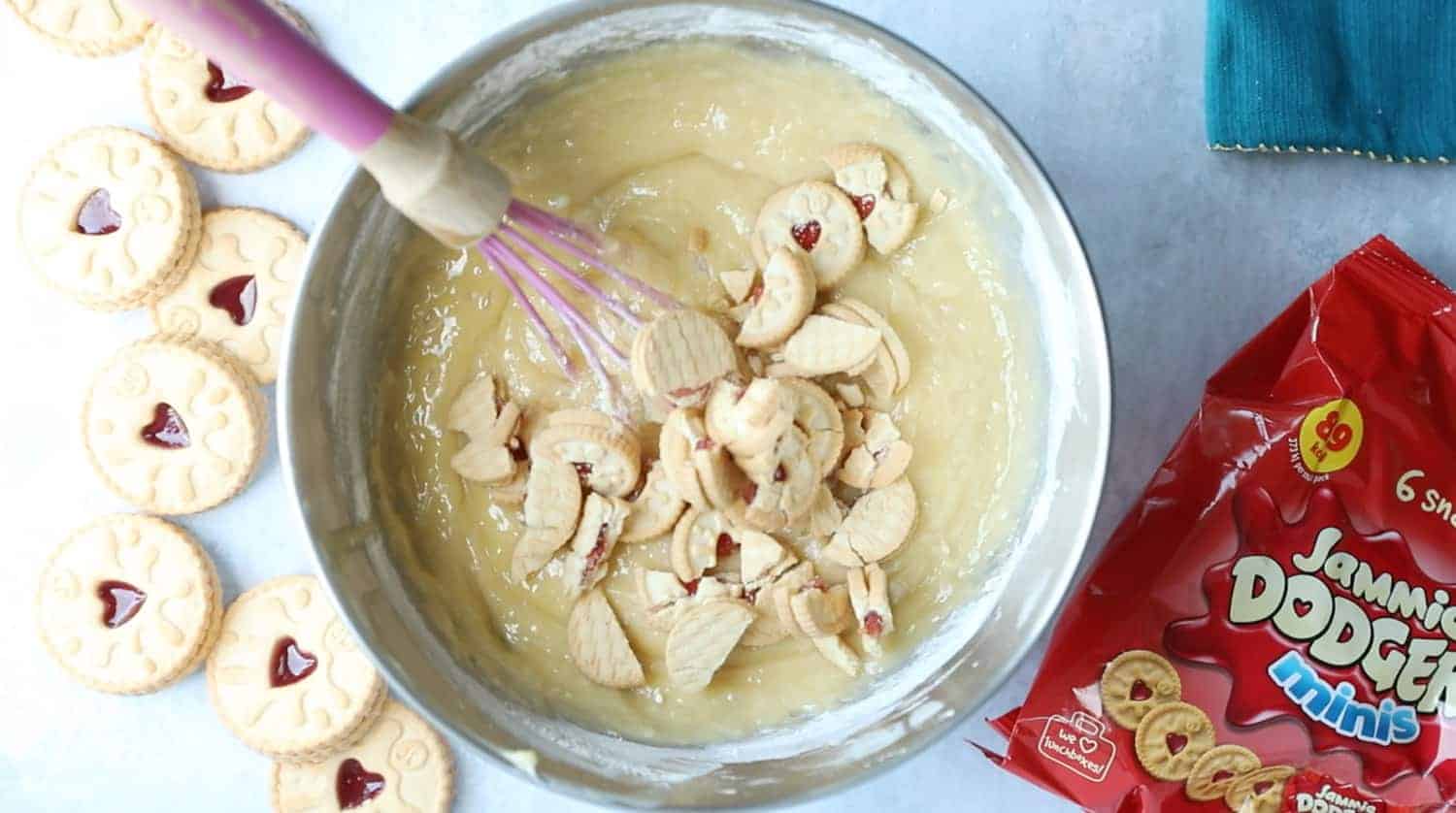 Spoon the mixture into the prepared baking tin.
Top with Jammie Dodgers and bake for 30 minutes.
TOP TIPS FOR MAKING JAMMIE DODGER BLONDIES:
after 30 minutes give the baking tin a shake, if there's still a wobble increase the cooking time in 5-minute increments until the blondies don't wobble when shaken
if you want your blondies less gooey in the middle wait until an inserted skewer comes out clean (note: your blondies will become overcooked on top the longer you leave them in the oven)
leave the blondies to completely cool in the tray before you attempt to cut them
the blondies will look very squidgy in the middle (unless you increased cooking time as stated above) this does not mean they aren't safe to eat and it's how blondies should look
MORE OF MY SWEET TREAT RECIPES FOR YOU TO TRY
If you make this recipe, I'd love to know how it went, I would really appreciate it if you could rate the recipe below and leave me a comment. Thank you!
Jammie Dodger Blondies
Delicious Jammie Dodger and white chocolate blondies are chewy on the outside and gooey in the centre. The perfect sweet treat with the biscuit everyone loves!
Ingredients
200 g white chocolate
165 g unsalted butter
200 g caster sugar
3 large eggs
1.5 tsp vanilla extract
265 g plain flour
100 g mini Jammie Dodgers
5 Jammie Dodgers , for topping
10 mini Jammie Dodgers, for topping
Instructions
Preheat oven to 180ºC/ 160ºC Fan/ Gas 4
Line a square (20x20x5.5cm) baking tin with baking parchment
Put the chocolate and butter into a heatproof bowl and melt over a pan of simmering water. Once melted leave to cool for 5 minutes.
Add the sugar into the melted chocolate/butter mixture and stir until well incorporated.
Add the eggs and beat well.
Add the vanilla extract, flour and salt and mix until no streaks of flour are visible.
Cut the mini Jammie Dodgers in half and fold into the mixture.
Transfer the mixture into the prepared baking tin and top with Jammie Dodgers.
Bake for around 30 minutes until there is no wobble when the baking tin is shaken.
Leave to cool completely in the tin then turn out, slice and serve.
Notes
after 30 minutes give the baking tin a shake, if there's still a wobble increase the cooking time in 5-minute increments until the blondies don't wobble when shaken
if you want your blondies less gooey in the middle wait until an inserted skewer comes out clean (note: your blondies will become overcooked on top the longer you leave them in the oven)
leave the blondies to completely cool in the tray before you attempt to cut them
the blondies will look very squidgy in the middle (unless you increased cooking time as stated above) this does not mean they aren't safe to eat and it's how blondies should look
Nutrition Information:
Yield:

12
Serving Size:

1 grams
Amount Per Serving:
Calories:

429
Total Fat:

18g
Saturated Fat:

11g
Unsaturated Fat:

0g
Cholesterol:

79mg
Sodium:

19mg
Carbohydrates:

44g
Fiber:

1g
Sugar:

27g
Protein:

4g