Weight Watchers Red Velvet Cupcakes are a perfect sweet treat and only 5 SmartPoints each! Beautifully red in colour, velvety soft, fluffy cupcakes, topped with a low-fat vanilla cream cheese frosting. Super quick and easy to make, you'll be whipping up a batch in no time.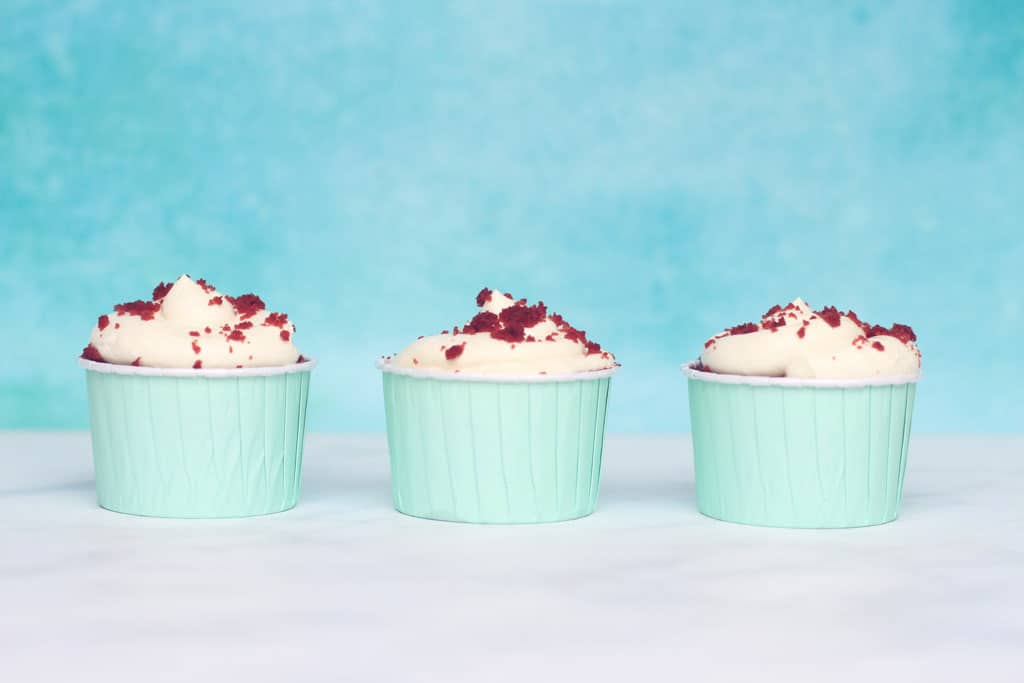 I started my Weight Watchers Flex journey a couple of months ago, I'm still following it and have really enjoyed finding new and interesting recipes to try.
I've got a couple of cookbooks that I've been working my way through and the Weight Watchers Red Velvet Cupcakes caught my eye. I had a hard time imagining how one of the favourite cupcake recipes would taste made the 'skinny' way, but I can tell you they are just as delicious as the regular Red Velvet, in fact, my family didn't even ask if I'd switched from my usual recipe. Result!
What do Red Velvet Cupcakes Taste Like?
Red Velvet cupcakes have quite a distinctive taste, the addition of the cocoa gives it an almost-chocolate-cake-but-not-quite flavour and the vanilla cream cheese frosting compliments this perfectly. The vinegar and baking soda help the cake to rise and make the texture fluffy. The addition of yoghurt to this Weight Watchers recipe makes the sponge quite dense but it's also light at the same time, it's hard to explain but you'll see what I mean as soon as you take your first bite!
What makes Red Velvet Cupcakes Red?
The addition of food colouring and cocoa powder gives Red Velvet Cupcakes their unique colour. During wartime rationing, people used beetroot to help keep cakes moist during baking which in turn enhanced the colour of the cakes they baked. Red sponge has been around for a long time and has become increasingly popular in the UK mainly thanks to the Hummingbird Bakery who have people queuing in the street to taste their legendary Red Velvet Cupcakes.
Let's make Red Velvet cupcakes, shall we?
The batter is easy to make, just follow the recipe card below and use these pictures to help you.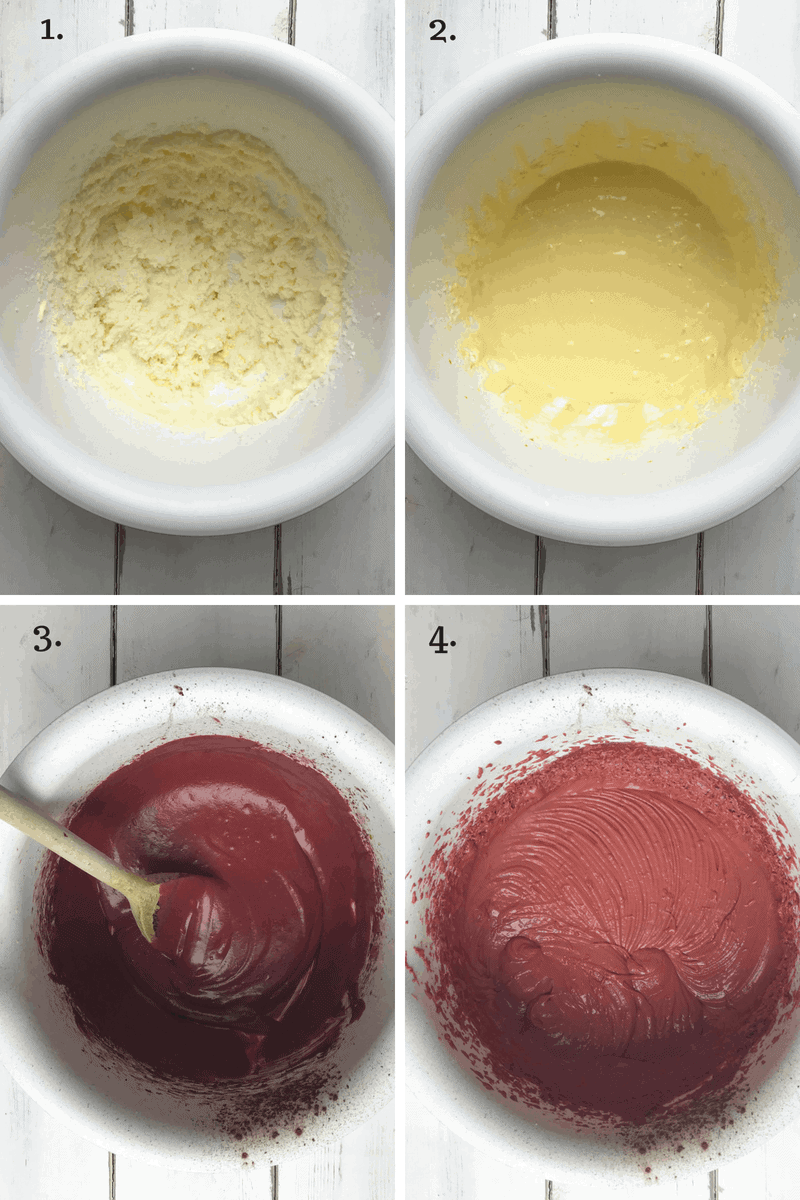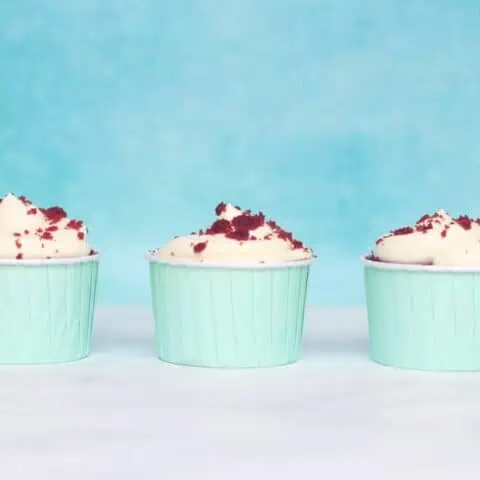 Weight Watchers Red Velvet Cupcakes - 5 SmartPoints
A perfect sweet treat and only 5 SmartPoints each! A beautiful red colour with a velvety soft and fluffy cake, topped with a low-fat vanilla cream cheese frosting. Super quick and easy to make, you'll be whipping up a batch in no time.
Ingredients
CUPCAKE INGREDIENTS
60 g low-fat spread
125 g caster sugar
1 large egg
10 g cocoa powder
15 g tube red gel food colouring
1 tsp vanilla extract
100 ml low-fat natural yoghurt
150 g plain flour, sifted
.5 tsp bicarbonate of soda
.5 tbsp white wine vinegar
2 tbsp skimmed milk
FOR THE FROSTING
150 g low-fat soft cheese
75 g 0% fat natural Greek yoghurt
1 tbsp icing sugar
1 tsp vanilla extract
Instructions
Preheat your oven to 180°C/160°C fan/Gas 4. Line a muffin tin with 12 paper cases.
Put the spread and caster sugar into a mixing bowl and beat with an electric whisk until pale and fluffy - about 5 minutes. (picture 1)
Add the egg and continue beating until well combined. (picture 2)
Sift in the cocoa powder, add the whole tube of food colouring and vanilla and beat until combined.
Mix in half the yoghurt, followed by half the flour and beat well. Repeat with the remaining yoghurt and flour and beat until fluffy - about 2 minutes. (picture 3)
On a low speed, beat in the bicarbonate of soda and white wine vinegar, then gradually add enough milk so that the mixture drops easily from a spoon. (picture 4)
Divide the mixture between the cake cases, don't worry that they only look half full the mixture will rise when it bakes. Bake for 20 minutes or until a skewer inserted comes out clean. The cakes will be risen and springy to the touch. Once baked, cool in the tin for a few minutes then transfer to a wire cooling rack to cool completely.
Trim the top of the cakes so they are level reserving some crumbs to decorate the icing with later.
To make the frosting, mix the soft cheese, yoghurt, icing sugar and vanilla in a bowl. Swirl on to of the cupcakes with a piping bag and round nozzle if you have them, if not use a spoon to spread a dollop of frosting on top of each cake.
Scatter with cake crumbs to decorate.
Nutrition Information:
Yield:

12
Serving Size:

1 grams
Amount Per Serving:
Calories:

173
Total Fat:

6g
Saturated Fat:

2g
Unsaturated Fat:

0g
Cholesterol:

23mg
Sodium:

179mg
Carbohydrates:

23g
Sugar:

13g
Protein:

4g
For info on Weight Watchers, read Does the new Weight Watchers Flex Plan Work?
Looking for a Weight Wathcers friendly recipe? Check out these amazing Pizza Tortillas and for more delicious cake recipes check out these Showstoppers and Cakes.
If you try these Weight Watchers Red Velvet Cupcakes, let me know. Leave a comment, rate it, and don't forget to tag me @amytreasureblog on Instagram so I can see it!